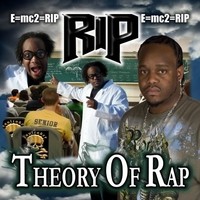 The reputed lyrical undertaker known as RIP has carved up his Midwest block since 1990. Having rapped with Wikit Kimistry and Eargasm Entertainment, he now fronts Soultaker Records, the label behind his recent solo release Theory of Rap.
With "Intro," there's this scientific lecture, and I wonder "what the hell," until it dawns on me: RIP is laying the groundwork for his "theory."
"Big Boi Status" boasts some dangerous synthesizer. Makes me think of the menacing Memphis act Three 6 Mafia.
 
"Zip codes / Got my own / I'm da the biggest in da town."
An excellent song to crank while cruising the block.
The track "What We On" begins with a guitar dive bomb, which might catch you off your guard. Dang, this song gets kind of evil-sounding, like Ozzy was reincarnated as a rapper.
Lyrically speaking, RIP goes all cosmic: "Now I'm a celestial being / Fly with angel wings / My bling is Saturn's rings"
"100 Rounds" starts off sounding like a dance track. To RIP's credit, you really have no clue how his tracks are going to begin. The song becomes pretty chaotic, a melee of disparate sounds.
"Almost comin' now / Move the pussy to the penis."
That definitely sobers me up.
Following this imagery, there is a rather groovy string of pugilistic rhymes. I reckon these are mean words for mean streets:
"Round these parts / We all got 100 rounds."
[youtube aqAZJwBHO5w]
"This 2" launches all ominous and bouncy. About 30 seconds in, RIP nosedives into freestyle abandon. The chorus is mighty fresh. I could listen to it 200 times over.
"hashtagdat" sure has a dynamic beat.
"Midwest Dynasty" waxes dramatic about the "concrete jungle." It's also a hip title for a song (or maybe a future album ?). RIP is about to put his rivals in the "sarcophagus." This is another incident of good death imagery brought to you by the appropriately named rapper.
"American Gangsta" would make a fine soundtrack addition to any movie involving "the hustle."
"When the Reaper Calls" reminds me of Snoop's "Murder Was the Case."
"Release" is one doozy of a sultry track: "Lay out on my table baby / Show me what you holdin' / You came to see the doctor / Cuz you needin' somethin' potent."
The good doctor then asks his patient for permission to "go in deep."
It seems permission is granted…for the chorus reaches a shrieking climax. Then comes a panting female guest vocalist. And folks: she says she wants it deeper!
I might have to take a break…
Seeking release yourself?
http://soultakerrecords.com/rip/
Then have a bit here: http://www.amazon.com/Theory-of-Rap-Explicit/dp/B008XIAVXC
Ray Cavanaugh – owleyesgatsby@yahoo.com