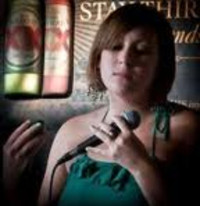 About the Artist: New York Singer/Songwriter Sarah Kervin just released her latest CD entitled "Passing through" in 2012.
Label — Independent Artist
URL: http://www.sarahkervin.com/
 
Review: In this overly saturated genera/market with a plethora of artists coming out of the woodwork, armed with nothing more than a PC, Microphone, a guitar and a crappy sounding CD — it's nice to know there are a few artists out there that can still deliver music that will make your jaw hit the floor while plucking your heart strings all at the same time. These new artists I speak of manage push their music out to the world and much of it is, do I dare say substandard in nature. So enter Contemporary Singer/Songwriter Sarah Kervin who just released her much anticipated CD entitled Passing through. So what do artists like Jammie Cullum, Diana Krall, Nora Jones, Barbara Streisand, Joni Mitchell have that Kwrvin don't   Not much if you ask me save the multi million dollars promotional machines and major record label support. Kervin and her red hot band break the mold with her "hot to the touch" sound and amazing movements that will mesmerize both the novice and advanced listeners alike. Passing Through delivers shall I say amazing music that has a deep seeded Old School Classic-Jazz roots but also has elements of Classic Contemporary Pop and Big Band Jazz. The playing skills of Kervin's band are all over the map but manages to never cross into "freak show" territory. But getting back to Kervin she is the premier talent that makes this whole experience so special. Her voice is intoxicating and with her musician arsenal she gently takes you by the hand and leads you down a timeless 10 track journey. Right now after hearing Kervin's music — let me go on record by saying Kervin is the quintessential vocalist the world needs right now. I don't say stuff like that often. All in all Passing Through is a brilliant CD that has much to offer the listener. Apparently there are still a few composers, arrangers, musicians, and vocalist out there believe in playing music the way it is meant to be played.
My favorite tracks are: Cold Empty Bed, Let Him Fly, Guess Who I Saw Today.
Conclusion: Sarah Kervin stands out from other artists in a good way within this very saturated market. Her answer to mundane music is to deliver something unique and powerful. The Music of Sarah Kervin is comparable to a breath of fresh air, with a highly soulful singing style. The strong suit of Passing through is Kervin's amazing voice, presence, passion and overall talent.
by Rory Richardson edited by Mindy McCall
Rating: 5 of 5 Stars
Review Comments: indiemindymccall@gmail.com