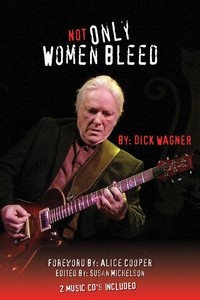 Dick Wagner is a rock and roll guitar legend, for both his playing and songwriting.   The work with Alice Cooper (producer Bob Ezrin, and songwriter Bernie Taupin) and Lou Reed are at the top of his resume that also includes Aerosmith, Kiss, Peter Gabriel, Meat Loaf, Frank Sinatra, Ringo, Air Supply, Guns N Roses, Hall & Oates, and Rod Stewart.   He first hit the Michigan big time with his band The Frost, and The Bossmen (who later included GFR front man Mark Farner).   His band Ursa Major even featured a young Billy Joel on keys.  
"Vignettes from the Heart of a Rock and Roll Musician"
The book is written in short, easy to follow vignettes.   Dick tells his story in his own colorful words.   A bonus is the two music CD's that are included.   The book is also available on Kindle.   If Dick had hit the scene a few years later, his early involvement with sex and drugs (and of course his rock and roll talents) would have surely qualified him to be a member of Guns N Roses.   It's amazing he found time to practice 10 hours a day!   He talks of early days, and selling songwriting credits to support himself and his habits.   Later in life, he dealt with family tragedies, and near fatal health problems.   The San Antonio Commission on Child Abuse commissioned Dick to write a relevant theme for them.   Remember The Child was later chosen by therapist John Bradshaw, who used it for his PBS special Homecoming.      
Dick told me he was known as a hit man, or "Guitar Slinger" in the industry, and
was called into recording sessions to add that little touch, the punch that was needed to put the track over the edge.   This was the case with Aerosmith's Get Your Wings, and specifically the solo on Train Kept A Rollin.   He was called in by during the recording of the Kiss album Destroyer, to lend an axe playing the solo on Sweet Pain, and even acoustic guitar on the hit Beth.   The band he put together for Lou Reed (that later became Alice Cooper's band) was the best in the business.   His legendary riff trading with Steve Hunter on Lou's Rock n Roll Animal, and Alice's Welcome To My Nightmare still stand as classics.   Dick was the driving source on five Alice Cooper hit albums (57 albums released worldwide), and was the co-writer of over 50 songs including Only Women Bleed, You And Me, Welcome To My Nightmare, and I Love The Dead.   He remains close to Alice and still works with him, contributing a song to his last album.  
In later years, Dick has finally been given credit by band members on many songs he played on, but didn't receive album credit.   He has become good friends with Steve Perry, Steven Tyler, Paul Stanley, and Gene Simmons.  
If you're a rock fanatic or historian, this book tells you a lot about the inside of rock in the 70's, straight up.   If you're a guitar guy, Dick has to be on your list of the greats.  
The book's foreward is written by Alice Cooper, and edited by his partner Susan Michelson.   Included with the book (which sells for a reasonable $29.95), are the CD's Full Meltdown and Skinner Rat In The Box featuring Dick on lead guitar.   What a deal.   Also, if you see Dick appearing live somewhere, make sure you catch him!
By R.M. Engelman