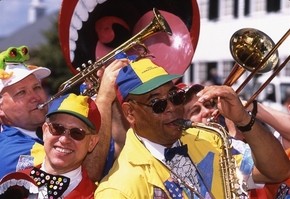 Music is in the soul of Kentuckians, and not just the bluegrass music that was born in the Commonwealth and has earned international acclaim. Befitting a diverse state that mixes urban and rural traditions, country music, blues, gospel and many other genres are popular today in the Bluegrass State.
Kentuckians' love for music has spawned an abundance of venues where it's performed live. From pop to classical, from one end of the state to the other, you'll find down-home music halls, state-of-the art concert arenas and everything in between. Beethoven, Bill Monroe and Loretta Lynn may be just a few of the fabrics that make up the crazy quilt that is Kentucky's music scene on any given weekend.
Bluegrass aficionados will want to visit the Owensboro area, where the Rosine Barn Jamboree serves up a regular supply of the music considered to have been conceived by Kentucky native Monroe. The Jamboree is a Friday night staple at an authentic barn in the shadow of the restored homeplace where "Big Mon'" was born, raised and is buried in Ohio County.
For more information, visit www.bluegrass-museum.org/visit/rosine.htm.
Among the meccas for country music fans in Kentucky are the Renfro Valley Entertainment Center and Prestonsburg's Mountain Arts Center, home of Billie Jean Osborne's Kentucky Opry. Renfro Valley, on Interstate 75 between Berea and London, showcases classic country, bluegrass and Southern gospel styles in two theaters throughout the year. At the 1,054-seat Mountain Arts Center in Prestonsburg, on Kentucky's famous U.S. 23 Country Music Highway, the lineup includes Melvin Goins on April 5 and the Spring Gospel Concert on April 27.
For more information about artists and dates, visit www.renfrovalley.com and www.macarts.com.