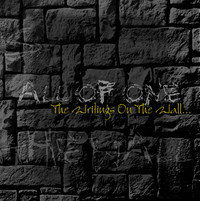 Ontario native Paul Grenier a.k.a. "All of One" is a veteran of the Canadian music scene, having sold thousands of albums with his previous band Kottmeier. He now has a promising trajectory as a current member of The Makshftr.
And yet he needs more. So we have his second solo offering The Writings on the Wall. At seven tracks, it hovers somewhere between EP and full album. Emotionally intimate and confessional, the lyrics beckon one to navigate the landscape of the speaker's psyche.
Opening track "Back in 91" wastes no time in painting an image of jadedness: "I long to be, but it's such a chore / The feeling I craved most of all isn't fun anymore."
Track 3, the title track, provides an engaging acoustic melody. There seems something quite hopeful about this song: "If we could fly above cities / enough to make a sound for all the world to see."
Track 4, "Save Us All," begins with an intriguing (almost Spanish-acoustic-sounding) guitar riff. This song is a bit more structurally complex. About one minute in, a background piano track appears, providing a nice touch. Also, there are intermittent periods of dual vocals.
With track 5, "On the Third," it dawns on me that Grenier's voice is reminiscent of fellow Canadian Raine Maida (front man for Our Lady Peace). From the start, a sense of solitude is established: "I just want to be alone some time."
Track 6, "Could Have Been," betrays the speaker's feelings of inadequacy: "I could have fought, like a soldier…But I'm not that strong / I need a helping hand."
The seventh and final track is a brief instrumental piece. There's something poignant here. One almost wishes that it could be extended into a full-length song.  
Having perceived all of The Writings on the Wall, one can safely assert that it's not the kind of music to crank while racing down the highway. But is it appropriate for the coffee shop?
Draw your own conclusions at: http://www.reverbnation.com/allofone
For more All of One info, visit: http://allofone.ca/#!/home
Ray Cavanaugh – owleyesgatsby@yahoo.com