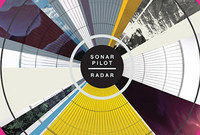 Sonarpilot is back with a blast of sound that is titled 'Radar'.   I had the pleasure of reviewing Sonarpilot's last album 'Mothership' back in 2010 (http://www.skopemag.com/2010/04/09/sonarpilot-mothership) and I knew then that we had something unique in our hands.   The new release comes in a Limited Edition Double CD and Extended Digital Bundle that will just blow your senses right out of the water!   The first disc features 10 blazing tracks of "Sonarpilot Original Singles" and CD 2 is titled "Remix Transmissions" which includes some of the finest electronica musicians around.   Not to mention the cover art is stunning to look at with its innovative images that will capture your deepest thoughts.   The music and the imagery go hand in hand and that is what makes Sonarpilot so darn special.  
Sonarpilot – "URMBR" MP3:
http://k007.kiwi6.com/hotlink/6uq2dtz6aa/07_urmbr_original_.mp3
Swiss-born musician & producer Michael Moppert is the brain-child behind Sonarpilot and he is now the proud owner of his own label called Sonarpilot Audio.   Over the last few years Moppert has been working heavily with London-based DJ/producer/Sonarpilot Audio label manager Jonny Miller.   The two have teamed up to bring you some of the hottest, out-of-this-world electronic music you have ever heard!
On 'Radar' you will hear elements of techno, dubstep, electronica, downtempo, bass music, house music, trance, dance and even some funky grooves mixed into some nasty beats.   But in the end the discs have only one true style and that is the Sonarpilot Signature Tone.   Right from the start on the title track 'Radar' on CD 1 one will receive an audio explosion where sound, sound effects and music unite!   On track four "Ocean Dub" you will get a robotic, futuristic goodness that will consume your entire body.   Prepare yourself for a sensual & erotic vibe on "URMBR" and then enter an exotic land full of wonder on "Namibia Nightflight".   The party doesn't stop with the "Sonarpilot Original Signals" side because Michael Moppert & company will continue to unleash the feast of sound on Disc 2, "Remix Transmissions".   On track three "Ocean Dub (Singapore Bass Vocal Mix)" large laser beams are hitting you in one crazy & exhilarating mix.   On "Voodoo Logic (Ramadanman Refix)" brace yourself for a supersonic, bionic force that will not let you go.  
The best way to describe Sonarpilot's 'Radar' is just try to imagine going on a journey into a world full of extraordinary soundscapes.   With hotter than hot 'n' hypnotic beats and dance grooves 'n' hooks, jump aboard the Carnival of Noize!   All of the DJ's on these recordings are simply spinning out of control with tunes that will make you move your bones and "Get Down Tonight" just like the great KC and the Sunshine Band!   One point I'd like to add is that the total running time between both discs runs over two hours long so you will definitely have to put some time aside to take in the full listening experience.   But I'm here to tell you that it is well worth it and you will not regret it.  
Check out some cool videos on Sonarpilot's exclusive YouTube channel right here: http://www.youtube.com/sonarpilotaudio.   You can also listen to Sonarpilot's "influence mixes" (http://www.mixcloud.com/SonarpilotAudio/) and to find out more about this musical entity and the latest release 'Radar' SKOPE out http://www.sp-audio.com.  
Rating: 4.5/5
By Jimmy Rae – jrae2@att.net