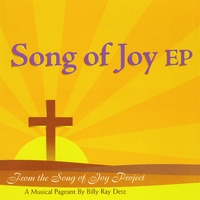 The god-fearing man known as Billy Ray Deiz is back with his famous 'Joy' and now 'Song of Joy' project revisited.   I had the pleasure of reviewing Billy's 'Joy' EP back in July of 2012 (http://www.skopemag.com/2012/07/26/billy-ray-deiz-joy) and now his "Musical Pageant" is nearly complete!   "Gimme Cracked Corn", "Gimme Cracked Corn (Instrumental Reprise)" and "Keep The Faith" are once again featured on this recording but the listener is now getting to hear two brand new gems: "Mary's Song" & "A Child Called Jesus" (Orchestral Theme)".  
The disc starts up with the wildly popular "Gimme Cracked Corn" that has been getting major attention on Jango.   The song provides a very cool, jazzy feel to go along with the powerful WORD…of God that is.   One can sense right away that this Billy Ray Deiz is a singer/songwriter on a mission…to serve the Lord Jesus Christ.   And I can't say enough about the wonderful tenor sax part played by one of Nashville's finest Jim Hoke.   Next up is one of the new installments "Mary's Song" that provides a sensitive-to-the-touch instrumental that is quite simple yet extremely satisfying.   We get to the middle of the EP where we have to "Keep the Faith" and honestly my favorite track because of the powerful words spoken to go along with a stellar sound and an overall sense of good feeling.   This song has it all, in my opinion, and all I really have to say after hearing this one is AMEN!   Where gospel meets soul meets Christian all you have to know is that "Faith will keep you whole".   The finale to this 'Song of Joy' project brings one dramatic & joyous performance to the world, which offers up all of the peaks & valleys one can handle.   Of course it is fitting or better yet meant to be that this would be called nothing other than "A Child Called Jesus (Orchestral Theme)".  
I said in my previous review that people need to grab ahold of faith more than ever because I feel that is the true cornerstone of life.   Without it I do believe that we are all lost.   And now more than ever do people need religion & God in their lives as I referenced the tragic movie theater shooting where 12 innocent people lost their lives in Aurora, Colorado.   Jump ahead just five short months and we hear of 20 children, six adults and the shooter dying in a terrible massacre that occurred at Sandy Hook Elementary School in Newtown, Connecticut.   So you see, we have to remain strong in faith because that is the only true answer we have otherwise the bad guys win.   And don't forget the old saying that says good ALWAYS triumphs over evil.   This is what Deiz is trying to get across in his music and I commend him for it wholeheartedly.   I highly recommend the 'Song of Joy' EP because it is a fruitful piece of work that speaks loud in more ways than one.   Stay strong and pray hard my friends.
Rating: 4.5/5
By Jimmy Rae