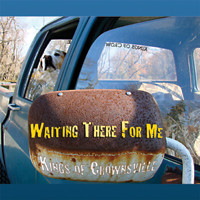 Band: Rob Creath (Drums), John Harris (Trombone), Ed Justice (Trumpet) Steve Johnson (Lead Vocals and Guitar), Mike McCormick (Keyboards), Peter Miller (Bass), Jim Teverner (Trombone and Trumpet) Peter Katz (Tuba).
http://www.kingsofcrownsville.com/home.php
Review: This CD has much to commend them. Admittedly, there is a whole lot of variety to these arrangements and performances. First: This is an impressive band that delivers rock solid playing like a well oiled machine. This is testament to hundreds of hours of rehearsal time no doubt. Second: Vocalist Johnson possesses a voice that hit the mark remarkably well within the Blues/Rock/Pop music arena. He has the attributes required of an effective Singer/Songwriter. Third: his sound and amazing songwriting touch are as good as it gets in modern Americana/Blues/Rock. All songs are a skillful combination of classsic pop rock yet with a slight Rhythm and Blues-Rock aftertaste that will remind you of Daniel Powter, Shayne Ward, Van Morrison, and even James Morrison to John Mayer. Johnson and company have the creativity and songwriting prowess to be extremely dangerous. There is also a unique quality to this catalogue that breaks the mold when compared to the mundane pop-rock that's been filling the airwaves lately. What am I trying to say — well let m start by saying there is nothing fake and superficial about Kings of Crownsville. Not every square inch is filled with musical ambience delivered under duress — but musical space that allows the music to breathe on its own with passion that cannot be faked. Equally as impressive is how marketable this catalogue truly is. It covers so much ground and despite this it manages to not spread itself to thin across to many lines — nice touch. I've always said if you can play it a party, then it's marketable. The music is extremely marketable – with a fresh sound that is passionate and entertaining very much like the band themselves. All 10 tracks will genuinely lift your spirits unlike most music you hear on the radio these days.
Favorite Track: Country Blues, Money in America, Title track
Criticism: I wish there were more songs…..
Conclusion: Let me go on record by sating Kings of Crownsville has no weaknesses that I can see and hear. They deliver everything and these latest release is an endearing staple limited by nothing. I would imagine in time we will hear more from this band from Maryland in the years unfold. Time will tell but I can honestly say this is one artist that is set up for marketable success down the road with her musical personality and fresh sound that gives modern music a well needed wake up call.
Rating 4.5/5
Heather Savage edited by Devin McAlister
Review comments: heathersavage5@gmail.com