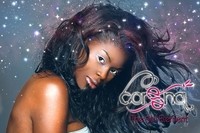 Coreena was born and raised on the northwest coast of America. In Seattle, precisely.   Singing came to her at a very early age. Around 8 years old she began to write songs. She did a few high school musicals before going to Berklee in Boston. Her first EP was titled ''Emotions'', which received good reviews.
When we listen to her most recent EP, ''The 5th element'', her jazz inspiration is apparent in her ambient creations. Which gives to the result, an awesome mix   that you don't want to listen to only once. The 5th element and Belong are among the strongest efforts on this EP, though all 5 of them are worth a listen. Coreena has a very beautiful voice that you don't get tired of. She is comparible to Dead Can Dance's Lisa Gerrard or Cocteau Twins' Elizabeth Fraser. With a similar kind of angelic voice.
The only criticism I could say about her songs is that they are too short. Because you get inside her world very fast and you would like more of it.   The longest track is 3:27 and it does pass very fast. I can't wait to hear more of her music. Coreena plays live concerts. So if you get the chance to see her, don't miss the opportunity. With this EP she has solidified her mark as an up and coming artist to keep an eye on.
Overall Rating: (4 out of 5 Stars)
Gilbert Lachance is the on-air host of From One Extreme To Another ("D'un extrême à  l'autre") heard Monday nights at Midnight here: http://chuo.fm/
Coreena's Links:
Website: http://www.coreenamusic.com
Facebook: http://www.facebook/coreenamusic
ReverbNation: http://www.reverbnation.com/coreena
YouTube: http://www.youtube.com/coreenamusic
Twitter: http://www.twitter.com/coreenamusic
By Gilbert Lachance for B's RSM Promotions