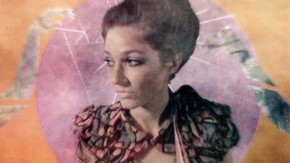 Kate Vigo is excited to announce the release of the latest video clip for her new single 'Not The One' from her upcoming album from 'Blue to Gold'. The swooping strings in this indie/pop ballad are complimented perfectly with the quirky clip, created by Kids In Cloaks. It combines a mixture of futuristic and 'cut out' vintage themed scenes and mirrored effects as the songstress fronts an unmanageable battlefield to give its colourful nature a strange beauty and underlying sense of emotion beyond the 'cute.' Kate's tone and message possesses a unique quality that would see the likes of Sarah Blasko and Feist in a similar orbit. 'Not the one' will be included on the CD compilation in the December Issue of YEN Magazine.
[youtube mfxIVna6IIM]
The Australian Indie singer/song-writer is set to release her second album 'Blue to Gold' and has already received much positive attention with two singles from the record' 'Wanna Run' and 'Spinning Out of Control' scheduled to feature on the popular TV series 'Winners and Losers.' This isn't the first taste of excitement for Vigo, who after great success with her national tour in April 2012 saw herself winning second place in the APRA International Unsigned Only Song Competition. This feat can be added to a long list of awards and appearances such as a Musicoz award for 'Best Video' for her single 'The Way You Are', second time finalist in the ISRC songwriting competition, finalist in the 2012 Australian Songwriting Awards, selected to attend the APRA/AMCOS Song summit in Sydney and has featured on MAX Music, Network Ten's TV series 'Offspring', ABC's 'Art Nation not to mention radio airplay on Triple J, Radar Radio and Fox FM.