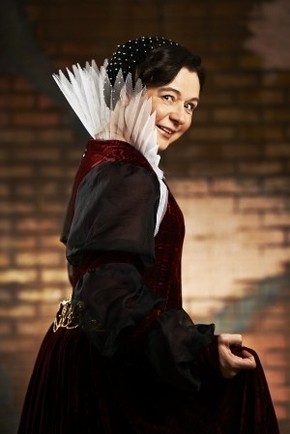 While the world is currently gorging itself on electro pop and dance music, Josee Vaillancourt is opening our eyes and ears to classical forms of music, from renaissance and medival to classical contemporary art songs. An accomplished musician, Josee is also a performer in the theater chamber music group Damsel & Swains.
DiGDuGDisaster: First off, it's not often that our readers hear about classical musicians, it's almost like learning a new language these days. How did you get into it?
Josee: I think I got into it like most people. My mother wanted all her children to take piano lessons and I am the only one of her children who kept with it.
DiGDuGDisaster: What instruments do you play and what is your favorite?
Josee: I was trained as a classical pianist but never felt that I belonged there. I liked to sing and when I wanted to switch from piano to voice, the director of the conservatory laughed at me. I still remember it very clearly :   "ha ha ha, Josee, lets be serious. You are a pianist. I can help you get into any university of your choice in piano if you want." And for the longest time I lived a life that never felt right. Then, when my daughter turned 8, she asked for voice lessons. I found a voice teacher and took lessons with her to make sure that teacher would be a good fit for my daughter. My daughter and I have been taking voice lessons with her ever since. I also play violin, soprano and alto recorders, small percussions instruments and a variety of hand drums. But voice is my greatest love.
DiGDuGDisaster: You perform many different forms of classical music, tell us what styles you use and what are the differences in the types of music?
Josee: My vocal range and voice quality are perfect for early music repertoire. My voice finds a good home in anything from medieval, Shakespeare's, and   Bach's times; be it church chants, Dowland lute songs, or oratorios' arias. I also do contemporary art songs. These have similar quality in style and lyrics content as a singer-songwriter material. They are intimate, poetic. They tell a story and are made to be performed in an intimate concert setting such as a coffee house or private home concert. It is performed with a reduced amount of musicians, often, just a pianist or one guitarist.  
Listen: https://soundcloud.com/jos-e-vaillancourt
DiGDuGDisaster: You have a single out titled "Autumn", what is it about and how would you classify it?
Josee: A colleague of mine, Guy Michaud, composed this contemporary art song.   Autumn is set to a poem by Canadian poet Louis Dudeck. Through a depiction of the changing colours of   the leaves in the Fall, it expresses the end of summer and is a metaphor of our own decay and death, when we all become spirits.
DiGDuGDisaster:Hildegard von Bingen, composer; title : Unde quocumque. What is it?
Josee: It is a plainchant from the RiesenKodex, a medieval manuscript found in Wiesbaden, Germany. Available free on-line in its original version.   This plainchant composer, Hildegard von Bingen, was a writer, a poet, and a composer, and many other things. She died in 1179. During her lifetime, she founded 2 monasteries : Rupertsberg and Eibingen. On October 7th, 2012, Pope Benedict XVI named her Doctor of the Church. This Psalm Antiphon   is presently available for purchase on Amazon.com
DiGDuGDisaster: You are a piano teacher as well as a high school band teacher, do you feel in a way that you're passing the torch, so to speak?
Josee: As a musician, I feel that I was often misled in my training, forced to be someone I did not want to be. Even though I loved the repertoire that I had to learn and perform, I feel there were holes involving skills such as improvising, composing, and exploring multiple genres of music. So as a teacher I try to give my students the love of music as opposed to the need to follow a strict curriculum that leaves them feeling empty like little robots. Good technique is a must for all genres performed no matter what. I want them to be able to come home after work at 40 years old and to sit down to play for their own joy and the joy of others instead of sitting on the couch watching TV all night. It is a question of health and quality of life.
DiGDuGDisaster: Damsel & Swains is the name of your chamber theatre music group. What is your role and what is chamber music 'theatre'?
Josee: I am the founder of Damsel & Swains. I teamed up with Brian Richardson, a professional actor, to develop programming involving poetry and solliloquies declamation with period music and songs to soudscape the words that Brian recites. My guitarist, Ryszard Tyborowski, is the instrumental glue that holds us together. A chamber music ensemble is a small group of musicians such as a string quartet. Since we added the element of theatre to our group's meterial, it became a chamber theatre music group. The word chamber implies an ensemble meant to perform in small intimate venues. And that is what we like to do.
DiGDuGDisaster: How important is versatility to you as a classically trained musician?
Josee: Versatility gives me a lot of creative freedom. I can sing anything because of good vocal technique. And to understand the possibilities of a variety of instruments helps me to know how to work more effectively with other musicians. My training as a teacher helps me to understand the personalities I work with and how to bring us all together. Everyone's life experience has value and will contribute to the finished product. To collaborate effectively with the members of my team, I need that level of trust in the value of their life experience. I am a daughter, a mother, a teacher, a translator, a musician, etc. Like everybody else, I have lived through many kinds of challenges. All this can be heard in my singing and this is what an audience connects to.
DiGDuGDisaster: You cofounded The Manitoba Early Music & Arts Festival inc. What is it for?
Josee: It is a festival for anyone and everyone to rediscover where our culture comes from so we know what we want it to become together. It is a multi arts event for us to rekindle with the roots or our shared culture. We are planning a 3-days 2-nights festival of art events from medieval, renaissance, and baroque times. Hopefully in the Fall of 2014. This is where the tradition of our singers songwriters comes from. To know more everyone can visit our facebook page : https://www.facebook.com/ManitobaEarlyMusicArtsFestivalInc.
Feel free to like the page. We need at least 1,000 likes to be able to use it for funding applications. We are also looking for sponsors.
DiGDuGDisaster: What can interested listeners and fans expect next from you and where can we discover more of your music?
Josee: Damsel & Swains is planning a show about William Kemp and his jig. Kemp was one of Shakespeare's clown that was used to entertain the crowd between some scenes' changes in a play. It will include live Shakespearian music. We are planning to tour with the Manitoba Home Route Classical concert series in 2013-2014 season. Also, my guitarist and I are working toward the production of a full cd of songs for soprano voice and guitar through times. All the songs were originally written for voice and a form of the guitar instrument (vihuela,lute, baroque guitar, etc.). This cd should come out in 2015.
Be sure to check out the contemporary classical single "Autumn", out now on iTunes.
By: Douglas Garnett – http://digdugdisaster.com – douglas.garnett@gmail.com