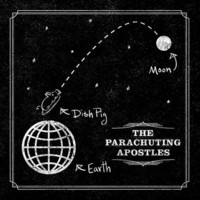 The Parachuting Apostles are an Alternative Rock band that comes to us from Philadelphia, PA. Right from the starts I can tell "Dish Pig" is one release that certainly doesn't disappoint. This is one band that brings to the table effective songwriting via a highly passionate musical delivery. And elite level musicianship. This meshed with a one in a million Alternative Rock sound and songwriting make for an effective combination. The Parachuting Apostles even touch on Alternative Punk Rock and Hard Rock with hints of Jam Band, and Melodic Indie Rock. All songs are wonderfully simple but masterful in their overall arrangements. Music reminded me of a cross between Icehouse, Interpol and even Bloc Party with traces of Stone Temple Pilots, Alice in Chains and even Chevelle.   This 3 song sampler is quite entertaining and dynamic overall with an amazing vocal front of a one Louis Graff. Kudos also goes out to the mesmerizing guitar wok for Kenny Luu. If Graff just so happened to write all these songs well he could be bigger than any of us realize at the moment.   All songs are amazing via well-crafted pieces and top tiered movemnts and off time curve balls. There's some incredible moments on this 3 song EP — more so that most full length CD's Many songs simply personify the Human Experience which gives these 5 guys an amazing feel in it's attempt to connect with a cult fanbase locally or abroad.
Top Track: Common Criminal
URL – http://www.theparachutingapostles.com/
The Parachuting Apostles have proven themselves with this latest release. They are clearly an up and coming talent around Pennsylvania and all 5 members are capable songwriters, artists and musicians. I must admit The Parachuting Apostles sucked me in like a powerful drug and refused to let go long after the music was over. This usually indicates he is something special about the artist or band in question.   Thus deserving praise, recognition and musical fame at the international level. Need I Say more? Bring out the full length CD already!
Overall Rating: 4/5
Other Links:
AMAZON: http://www.amazon.com/s/ref=nb_sb_noss?url=search-alias%3Ddigital-music&field-keywords=parachuting+apostles
I-TUNES: https://itunes.apple.com/us/album/lets-do-it-right-this-time-…/id449913826?i=449913833&ign-mpt=uo%3D4
by Drew Blackwell edited by Markus Druery
Review Comments: marktheshark972@gmail.com