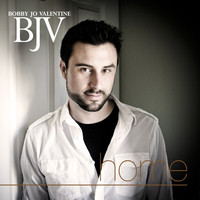 On the heels of his debut album, A Place To Belong, it seems singer/songwriter Bobby Jo Valentine found what he was looking for considering the recent release of his sophomore effort, Home. After enjoying a burgeoning fan base and several accolades over the past year and a half, Valentine proves that he is not only a notable songwriter; but also a socially aware dynamo. Beginning early next year, Valentine will embark on a national tour to support his new album but also to provide aid and garner awareness for various non-profit organizations with the idea of "home" in mind. Meanwhile, Valentine is celebrating a growth in his songwriting with the 13-tracks of emotive and anecdotal leanings within Home.
[youtube 2DUWHlblEm0]
"Between Those Lines" opens to demure acoustic picking and tender vocals. The vocal interplay and harmonized lines rest nicely before being bolstered by banjo notes, lap steel and tandem verses. The lyrical matter is the highlight in what is simply a well-written song rife with imagery. The lighthearted "Chase Away My Dark" continues the poetic lyrical matter over slight backing instrumentation. The ubiquitous acoustic picking leads the way with minimal backing percussion carrying the melody along through the verses and chorus. This is another track that tells more of a story that seeing the verses simply progress through the song. Even this early into the tracks, it is apparent that songwriting is going to be the album forte. "Gunshot" evokes the songwriting of Paul Simon with its imagery and metaphor. In what is essentially an up-tempo love song, this one features a full range of musicality with backing keys, full drum set and rhythm electric in the feint background. Title track "Home" opens to more demure strumming before surrendering to backing electric riff work. Like the bulk of the album, Valentine takes a less is more approach to the instrumentation through to a build as instruments check in and check out again. The backing Wurlitzer like keys make intermittent appearances while the steady acoustic strums the song through to its completion. The opening jangle of "Spark" is reminiscent of a Jackopierce or Connells track–up-tempo, aggressive acoustic over slight, complementary backing instrumentation. "Warm is the Light" closes the album much as it opens; demurely. Piano and acoustic rest over brush snare with accompanying accordion and tandem verse work through to the album's end.
Valentine reaches near ridiculous heights on his second album. His songwriting ability rivals some of the industry's best and paired with the musicians he's surrounded himself with on Home, these are songs that will resonate with the listener long after the listen. The folksy leanings pair perfectly with his ability with lyrics, rendering complete packages rather than simply good songs. Couple that with his expectations on the upcoming tour and LA Weekly may have nailed it… he may just be "the nicest guy to ever pick up an acoustic guitar."
http://www.bobbyjovalentine.com/              
Christopher West – cwestlaz@gmail.com