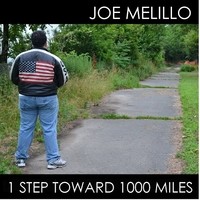 Joe Melillo brings a musically and lyrically eclectic medley with his album 1 Step Toward 1000 Miles. From the raucous and guttural blues of "Toughest Around" to the disco endeavor "Music is my Life," even the most seasoned listener would be unable to predict what comes next.
One track, "Percy," involves the stealing of prescription pills. However, this isn't about glorifying pharmacy robbers; it's a piece addressing a moral paradox called the Hines Dilemma, in which a man is compelled to break the law and steal meds, in order to alleviate his ailing wife. Melillo, who encountered the Hines Dilemma in a college philosophy class, has the perceptiveness to know that this could make good fodder for a romantic song.
Buy:
http://joemelillo.net/discography/1-step-toward-1000-miles
The track "Cancun" involves one's existential choice to flee the "rat race" and head for that iconic Spring Break venue. "The Friend Zone" delicately approaches the painful subject of women refusing to sleep with their male friends. Melillo has labeled this regrettable predicament as the "Friend Zone." He says that he is "certainly not the only person to get trapped in this situation." He is quite correct.
About this track, Melillo says it's his "plea to implore women to look at their [male] friends in a different light." Whatever one may think of the song on a musical level, there are many among us who would, at the very least, appreciate his crusade.
Perhaps the best performed track is "Green Beer," a St. Patrick's Day drinking anthem. Melillo, as an Italian guy, undertook this one as a special challenge. The present reviewer, as an Irish-American, says that the piece is sufficiently authentic.
In "Rhymin' Fool," Melillo clowns around and succeeds in finding a rhyme for the word "orange." "Hagop Hagopian" is an enjoyable song about Melillo's Armenian friend, who has a panic attack when deprived of a peanut butter sandwich. Aside from achieving a comedic effect, "Hagop Hagopian" provides some pretty decent guitar action.
Ultimately, 1 Step Toward 1000 Miles is a diverse collection of frequently amusing tunes, and aptly creates a generally fun-loving mood. Listeners are encouraged to make a holiday visit to: https://itunes.apple.com/us/artist/joe-melillo/id291843014
Ray Cavanaugh – owleyesgatsby@yahoo.com