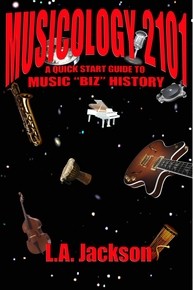 I hope you are doing well in the land of music! Big ups to Dominic at www.drivenatlanta.com – what an incredible music conference!! Okay folks, the word is out and I've just gotten confirmation from my publisher at www.nucherte.net – MUSICOLOGY 2101 will be a 2012 reality! Get ready, quite possibly the most important music biz book this side of the millennium is headed your way–check out our Peach City Records artist in development named Onny… and stay tuned!
Here's Quincy Jones' former President of Qwest Entertainment to give you the M2101 Foreword:
"Within the covers of this remarkable book resides one of the most complete and thorough exposés covering the history of music.   L.A. Jackson's Musicology series is a concise compilation tracing the roots of music from its Biblical start to the present day — it is a revelation of true, technological manifestation.   Musicology doesn't just recite the information read and re-read from many previously published sources; it extrapolates from those sources and presents them in a context that is simply unique and refreshing!   More importantly, L.A. presents little known facts and information that will surprise and amaze the reader — and if it happened to me, I imagine it could happen to almost anyone else that reads this book.
As an attorney practicing in the recording, music publishing and entertainment industry for nearly thirty years and former president of Qwest Entertainment Group, comprising Quincy Jones Productions, Qwest Records, Qwest Music Group and Qwest Film and Television, I have read numerous publications and periodicals regarding the music and record industries.   It appears to me that L.A. has taken great pains to research historical events of the most important developments occurring within the music industry.
Musicology can be looked upon as a high-quality quick-start guide that will catapult the reader right into the fast lane of the music industry. I trust that each and every one of you will take from this experience a deeper and greater knowledge and understanding of the music industry, as well as its impact upon not only American society, but on the world as a whole."
Donald K. Wilson, Esquire
Pic: M2101 COVER
Mp3: DJ PAIN INTERVIEW
http://www.reverbnation.com/mkmexclusives
Video: ONNY LIVE! SUMMER 2012
[youtube mtA-a9JRETY]
By: LA Jackson – musicmon101@gmail.com
UPCOMING EVENTS:
OCTOBER 27 – KEVIN SHINE'S "WRITING SESSIONS AMERICA" – SOUL ASYLUM STUDIOS, EMORY UNIVERSITY – www.moneypowerrespecteventbrite.com, www.thefirmweb.com
NOVEMBER 3&4 – MIDTOWN ECOFEST – MILLENNIUM GATE PARK, ATLANTIC STATION – www.midtownecofest.com
NOVEMBER 11 – GEORGIA MUSIC INDUSTRY ASSOCIATION SONGWRITER'S CRITIQUE WITH JUSTIN BIEBER GUITARIST TOMI MARTIN – VIRTUAL ADRENALINE PRODUCTIONS – www.gmia.org
NOVEMBER 14 – GUITARIST ELLIOT HOLDEN CD RELEASE PARTY – 10 HIGH, VIRGINIA HIGHLANDS – www.elliotholden.com