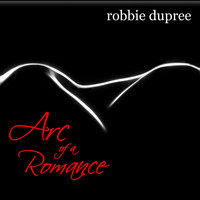 Robbie Dupree is certainly no newcomer to the music business. In 1970 he was playing in a band called "New World Rising" with none other than Nile Rodgers, and he's been pursuing his music career ever since. His first solo album was released in 1980 and Arc of a Romance is his latest. The album features five songs. Technically it's four songs, but there's an alternate version of one of the tunes. They are all Dupree renditions of some of his favorite tunes.
The sound fits nicely into a "smooth jazz" heading and it's very accessible. It's the kind of music that in the day of the crooners would have been called "pop music." There's a certain familiarity and instant accessibility to the release. From the retro organ sounds that start the set on "I Only Have Eyes For You," the disc feels like some long lost set from the 1970s (or even older). Dupree's vocals have a smoothness and delivery that calls to mind classic R & B. "We Let the Stars Go" showcases some tasty acoustic guitar styling and a particularly accessible vocal arrangement. Everything here really just seems so smooth and natural that there's a real "happy" vibe to it.
Perhaps the biggest issue here is that there isn't any kind of distinct character to this. There are no peaks and valleys, and in some ways it feels like you are listening to the same song over and over again. In addition, this just feels sort of generic in a lot of ways. It's not really the kind of music that you'd want to put on and really listen intently to it. Instead, it hangs in the background more than anything else.
http://www.amazon.com/Arc-Of-Romance-Robbie-Dupree/dp/B007XJ5E3Y
Overall, this would probably be great, as the title suggests, as music for a romantic evening. It is the kind of thing that works well in the background for dinner or light conversation. Sure, the musical performances and vocals are all top notch. It's just that it never really rises to the level of exceptionally unique or memorable. It's always entertaining in a "drop into the background" way. Additionally, there is so little difference in sound here that each tune taken by itself is stronger than the experience of tracking from the beginning to the end.
By G.W. Hill — Indie Music Media LLC