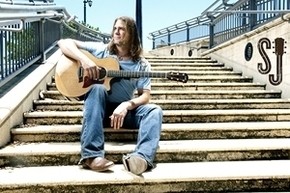 South Florida-based acoustic singer-songwriter, SJ, blends melodic folk, acoustic rock and light pop, with a chill vibe and a soulful vocal sheen, to create an acoustically soulful groove. SJ's music and style has been compared to artists such as Jack Johnson and Donovan Frankenreiter, as well as to acoustic material from artists such as Jason Mraz, John Mayer and Dave Matthews.
Live Dates: http://www.sjacoustic.com/tour_dates/
SJ is originally from Cleveland, Ohio. SJ began his professional music career in 2009 when close friends and family heard his first demo recording and encouraged him to share his music with the world, and "to quit his day job". After 15 years of playing music as a hobby, the shift from lawyer to musician was in full swing.
[youtube 9_Zo5iqCMw4]
SJ has been a repeat performer at famous singer-songwriter venues around the U.S., has showcased at various music festivals and conferences including for BMI, and has been invited for several live radio and television appearances in connection with his music. SJ and his acoustic chops are officially sponsored by Taylor Guitars and Sennheiser.
[youtube htv8kns7CBo]
SJ released his first full length LP, "Coffee: Strong Brew Edition", as well as a live album and video entitled "Coffee: Unfiltered Live Acoustic Album", in August 2012, with tour dates throughout the U.S. SJ also supports select charitable causes through his One Acoustic World(TM) Foundation, and is an active writer on the new music industry through his blog, The Musician's Hypothetical(TM), which he created to help fellow independent artists navigate today's music industry by sharing relevant stories from his own independent music career and music business journey.
http://www.sjacoustic.com
http://www.facebook.com/sjacousticmusic