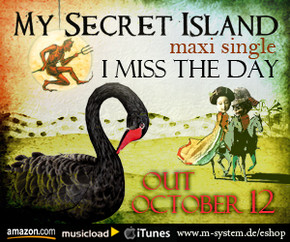 Good morning to all Skope readers. I was reading about how much $$ Obama & Romney are spending on their marketing for President of the US. I thought what if we had that $$ and we used it to promote musicians that we love. What band would you want to invest in? My guest today would be on the short list and they are My Secret Island from Germany. This band has been around since 2009 and they are gearing up to release the new single "I Miss The Day." If you have not heard that track head on over to Skope Radio for sure. Join me today as I talk with Merm of My Secret Island about his first guitar lesson, how he got started with MSI, and covering T. Roe's "Sheila"?
Stoli: Where in Germany are we talking from today and how was your summer?
My Secret Island: Hello Stoli, yes I am somewhere in Germany. According to the calendar, we're still in summer. There were some good and some bad days. On some days, I didn't notice anything from the outside world. I hid on my island and thought about this and that.
Stoli: Give us a brief history of how My Secret Island came together and got its name?
My Secret Island: I started MSI in 2009. I think it was in September. Before, I successfully played the guitar in another band. We played on big and small stages. That was a good time, and I learned a lot. I also played some concerts as guitar substitute with a so-called iconic East German rock band. The boys drank so much beer and wine that they were hardly able to walk, but on stage they played really great. Surprising. MY SECRET ISLAND is my place of retreat. There I am undisturbed, like on a desert island. TOP SECRET !
Stoli: Growing up, how much was music a part of your life both in school and at home?
My Secret Island: Already in my childhood music was part of my life. I started to play the guitar when I was 8 or 9, I think. My first guitar was an acoustic guitar from my father. He is also very much into music, even today. At my school they offered guitar lessons. I signed up. On the first day, I was pretty late und knocked at the door of the class room and opened it. An angry looking person stared at me and yelled: "Out, leave immediately." Ok, so much for guitar lessons. I was pretty shocked, but this also pushed me. So I taught myself everything from then on. Sometimes I was quite ambitious. In some cases I didn't go to a party, but stayed at home playing old rock music. Things like Deep Purple, Rainbow. That's good improvisation music.
Stoli: At what age did you start to actually write songs and see music as more than a hobby?
My Secret Island: I began very late to compose my own music. My first band was a cover band. We played punk music – mainly Green Day. At some point, that was not enough for me. I realized that this music did not give me everything I needed. You realize that music is more than a hobby when people tell you after a gig: "You don't belong here, you play way better than the others, make something of it."
[youtube SoLYLnj5qXs]
Stoli: I really love your single "I Miss The Day." What is that song about and where can we buy a copy on October 12?
My Secret Island: Thank you. In a way it's a love song, but then again it isn't. A message linked with hope. The love to a woman that will probably stay unreachable forever. A very personal experience. Not a nice story. You can buy the 4 track single in all good stores worldwide on October 12, 2012. Also on Amazon, Musicload, iTunes and all other internet stores as mp3 download or on CD.
Stoli: What made you want to cover T. Roe's "Sheila"?
My Secret Island: I like the old sound of the 60s and 70s. Not as over-edited as today. At that time, they still knew what dynamics was :) Tommy Roe had many other good songs apart from "Dizzy" and "Sheila". He is still active and plays in concerts. The well-known original version of "Sheila" (of 1962) is still played by radio stations. I was bored, printed the lyrics for me and played some chords that came to my mind. That was it. An old hit is reborn 50 years later :) I think our version is pretty cool.
Stoli: Where do you do most of your recording/mastering and are you a perfectionist in the studio? Will you ever reveal your Top Secret Band?
My Secret Island: I do the recording here on my island. You don't need modern over-priced technology in order to record music. My technology is really out-dated, but it works. The most important aspect and this will always stay this way – is still the musician himself. He plays the chords and sings the songs. He needs to develop a feeling for a song. No 100,000 $ piece of technology is able to do that. I consider myself a perfectionist, but sometimes a badly played note is better than a perfect note. Once MSI plays live on stage for the first time you will know who is part of the band. I hope to find a permanent group till next spring.
Stoli: I find the album art for "I Miss The Day" very interesting. What was the graphic designer trying to convey there?
My Secret Island: This painting/comic art belongs to and will always belong to MSI. A black swan as symbol for lost love. The waves and lighthouse in the background are important elements for MSI. The devil is a hint at the "dark version" of "I miss the Day", which is the fourth track on the single. An eye and a crown, maybe a watchful glance? And the blond girl in the foreground is my Sheila. I like this art. Many thanks to Maria Evestus from Estonia, who designed this artwork.
Stoli: Do you guys do music full time and do you also have to manage
work/school/family as well?
My Secret Island:   In a way, we are full time musicians, since we think about music 24/7. :) Some day I would like to have a family, but now is not the time.
Stoli: If I were to come visit you where would we go for a live show and some cold beer?
My Secret Island: That's difficult. We would need to travel 40 years back in time and I would take you to a Canned Heat concert. I suppose they would have cold beer there.
Stoli: What is coming up for My Secret Island and where are you @ online?
My Secret Island: I hope MSI will further develop and not just stay where it is right now. We have some plans, but we could discuss that in a later interview. OK?
www.reverbnation.com/mysecretisland
www.facebook.com/MySecretIsland