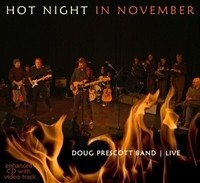 About the Artist: Doug Prescott is an artist that comes to us from Chapel Hill, North Carolina.   Prescott is one artist that is making quite a name for themselves regionally and internationally.   He   have received critical acclaim from many music critics and webzines around the globe thus far in his musical career and are is known for his impressive live performances around the region.
This latest release "Hot Night in November" Is a live CD and his 4th release to date.
Doug Prescott Band/Instruments: Doug Prescott — bass, acoustic guitar, electric guitar, vocals, Tommy Hartley — electric guitar, vocals, Keith Buckley — electric guitar, bass, vocals, Martin Parker — drums, Tony Bowman — keys, vocals, Allyn Love — pedal steel guitar, Eric Kulz — trombone, Jim Ketch — trumpet, Jim Henderson — tenor/alto sax, Arch Altman — bari sax
Musical Genera: Rock n' Blues, Folk-Rock-Pop.
Review: "Hot Night in November" is his latest release and the result though far from a self-indulgent ego trip, rather a moving and elegiac artistic statement from start to finish. Enter in the live setting you reach the culmination of impressive songwriting and hot to the touch playing. This is not your overly predictable Ramon Noodle Country-Folk-Americana "Sing-Songy" band. Instead this band could even be classed as a 3 genera band: Full Tilt Rock n' Blue, Folk/Pop and Classic Americana Rock of the 60's and 70's. Doug Prescott has way too much precision and clarity to live in the shadows of overly-predictable Country-Folk. Indeed this is clearly evident in songs like "Beach Wedding", Hideaway", and "Silence Speaks Volumes" which methodically ups the ante to a very respectable level of catchy musical craftsmanship and addictive rocking blues melody that transcends pigeonholing. The music is also commercially viable with a fresh sound and a jagged edge that holds the attentions span of the listener perfectly. Prescott's band doesn't fool around. I've always said the proof is in the picking, and besides being a solid bass player, Prescott and his band deliver rock solid playing along the way. In a nutshell this is Jimmy Buffet meets Rare Earth. For the record Prescott's voice reminds me of Billy Gibbons (ZZ Top) and he has the personality of Eric Clapton and Jimmy Buffet. The 13 song line-up appeals to many listeners with a wide variety of musical styles — but it needs to be said Doug Prescott and his band rock the house.
Top Tracks: Beach Wedding, Hideaway, Silence Speaks Volumes
Criticism:   Prescott's URL is in need of up-dating as I See no mention of this release on his URL.
Buy Doug Prescott Albums@ CD UNIVERSE http://www.cduniverse.com/search/xx/music/artist/Doug+Prescott/a/albums.htm
Conclusion: I would imagine in time we will hear more from this band in the near future. No doubt Doug Prescott has carved a marketable niche for himself in Chapel Hill. "Hot Night in November" gives you a musical snapshot that is hot to the touch, action packed, and dare I say dangerous in scope.
Michael Rand edited by Cyrus Rhodes