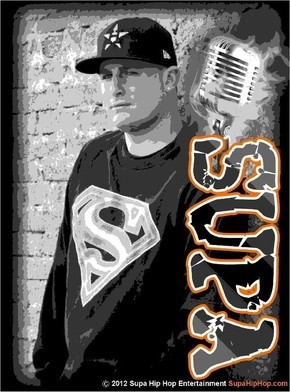 Hailing from Texas in the 'Golden Triangle' hiphop artist Supa knows a thing or two about the game. Poised to become the 'fresh voice of hiphop', this success story is 15 years in the making. Supa's music and his life is about community and writing from the heart. He lives and breathes hiphop and his lyrics testify to that. Now his debut "Who's That?" is out and making believers everywhere.
Skope: The first thing I noticed in hearing your single "I Know" is that you don't pretend to be a gangsta, concentrating on bling or the other themes so prevalent in so many other rap videos. What is your take on it?
Supa: I just believe a lot of the focus on hip hop being music seems to be lost. Or maybe it's just missing right now. I can't speak for anyone else, but for myself, I just know that I don't want to pretend to be anything I am not. I mainly want to make great music and put together lyrics that all people can enjoy and relate to, no matter what background they're from.
Skope: Some people talk about the days of Tupac as the golden age of rap. Do you agree with   that?
Supa: Those were great years, for sure, but there's a lot of really good music coming out now. Still, I truly believe that the best years for hip hop are still ahead of us.
[youtube RIIGZ6-ujHA]
Skope: You've been in the rap game a long time, yet this is your first official album as SUPA. Why did you wait so long to put something out?
Supa: I was in a number of different hip hop groups, writing, paying my dues and learning my craft. I never really focused on myself as a solo artist. Those years were invaluable for me as a person, but a couple years ago I decided it was time for me to begin making the kind of music that I personally believe in.
Skope: Your lyrics talk about haters in the music biz. As a white rapper and lyricist, do you find it more difficult to be taken seriously as an artist because of that?
Supa: No, at least I don't think that way. There are haters in every area of life. In fact, I really don't think in terms of Black or White when it comes to music or life. I never have, so I don't tend to worry about things like that. Back in the 80s and 90s it was probably harder, but guys the Beastie Boys and Eminem broke many of the barriers, showing that the color of a person's skin doesn't matter near as much as what's inside. Trailblazers have made it easier for people like me, and I always try to be thankful and aware of the open doors. I still get my double takes here and there when people first hear me rap, but for the most part, after they hear what's coming from deep inside, I get a lot of love back when I'm onstage and everywhere I go.
Skope: Music always tends to bring people together, doesn't it?
Supa: Definitely. Music has always been the great equalizer and unifier, and I guess it always will be. Back in the 50s and 60s, once Sam Cooke or Charley Pride or the Coasters stepped onstage, the barriers between races started disintegrating–both physically and culturally. DJs helped lead the way as they began playing Little Richard's 45s next to Elvis Presley's and Brenda Lee's records. It took time and it didn't happen overnight, but it happened. And it's still happening.
Skope: In terms of influences, you've talked about rappers like Tupac and Public Enemy, people we would expect to see. But you also point to Johnny Cash, Elvis, the Beach Boys, Michael Jackson, Frank Sinatra and more. How have they influenced your style or sound?
Supa: I was raised on all types of music–all genres and styles from southern blues to Carolina beach music, doo-wop, country rock, southern Gospel, Black Gospel, 1970s soul, blue-eyed souls and everything in-between. On family vacations and driving around with my family, there was no telling what would be playing, from Lynyrd Skynyrd to Muddy Waters, the Temptations, the Jackson 5, Blackwood Brothers, Five Blind Boys from Alabama, KISS, George Jones, Brooklyn Tabernacle Choir, Gap Band, Patsy Cline, Aretha Franklin, the Oak Ridge Boys and lots of comedy–everything from Bill Cosby to Mort Sahl, Jeff Foxworthy and Jerry Clower.
Skope: How about hip hop?
Supa: Nope! My parents weren't into rap back then, so if I wanted to listen to Tupac or the Treacherous Three, I'd have to break out the headphones and listen on my CD player. One thing I discovered, even though I knew at a young age that I loved hip hop better than anything else, was that any kind of music can touch your soul, go down deep where you're feeling it and lift you up. I try to encompass all the great music I've heard my whole life and do my best to make my hip hop impact others with things that really matter.
Skope: Now you're working with the legendary producer James Gardiner who has worked with countless Billboard artists including Master P, Tupac Shakur, Will Smith and Tony! Toni! Toné! How did that come about and what are your plans?
Supa: It happened when somebody heard songs from my mix tape and passed them along to James and his studio partner, Paula Telander. It's been an exciting thing to work with them on our first song for the upcoming album. It's a bit intimidating to fly to the West Coast and walk through the studios with all the gold and platinum records hanging on the walls, and to know that James has also worked on movies like Boyz in the Hood, Dr. Doolittle, 2 Fast 2 Furious and so many more. Thankfully, he's genuine and speaks the language. I felt right at home with him from the first time talked with him and Paula on the telephone.
Skope: James has been quoted as saying about you, "It's his time, and he's the real thing. He writes from his heart, and I know that the music we put together is going to reach far beyond the hip hop world." That has to be pretty gratifying, right?
Supa: Coming from him, I can't even begin to express what it means. He's definitely the real thing.
Skope: You often mention Big Shine. Who is he?
Supa: He is a producer and artist I met about three years ago in Port Arthur, Texas. He was already a well known producer in the area, a creative force. We linked up in his studio, just to see if it would work and we could relate to each other. I recorded one 16-bar verse, and we have been going strong since, not just in the studio, but also at shows, too. We've worked countless hours putting Supa Hip Hop Entertainment together. He's always seeking how we can make a beat or lyric better. He's a great rapper, too, and is featured on "Tell Me Why" on the Who's That? album.
Skope: Let's talk about your debut album that's doing so well.
Supa: It started out as a mix tape to have something for shows and fans, then as interest grew, it was mastered and released internationally through iTunes, Amazon.com and all the rest.
Skope: So people can people get Who's That? through all the major outlets right now?
Supa: Definitely. Our website, www.SupaHipHop.com, has several links. People can always download the album or individual songs at http://itunes.apple.com/us/album/whos-that/id524756806.
Skope: Everybody seems to love the Who's That? title on the front of the CD, with the flaming logo, then SUPA with the same graphics on the inside of the CD, as if you are giving people the answer to the question. It seems like the perfect title and cover for a debut solo album. And the single "I Know" seems to be getting a lot of attention.
Supa: We've gotten a lot of response to both the design and to "I Know," especially once the YouTube video came out (http://www.youtube.com/watch?v=RIIGZ6-ujHA&feature=youtu.be&noredirect=1). J Rich da Pit, a good buddy from Texas, produced the video. It's mainly our crew, including several members of the Rice University football team, and me having fun all around Houston–performing at a big street festival with major headliners like Z-Ro and Big Pokey, at the House of Blues and also hanging out on a basketball court. It came together well, and what's happened since then has been mostly word of mouth, especially through colleges and universities.
Skope: Why do so many people relate to "I Know"?
Supa: The song is pretty universal. Everyone has times when things go wrong, when you doubt yourself, and when you wonder if you've got what it takes to break past the challenges so you can reach your goals. That's where the song came from–that you can make it if you believe in yourself and that you have to keep going, no matter what happens. In "Only God Can Judge Me," Tupac wrote, "That which does not kill me can only make me stronger." It's as true today as when he recorded it. You make your future by your choices, and you have to believe in yourself first if you want to succeed.
Skope: I've noticed that you've gotten some great comments from people in the music industry and from a lot of international fans. How has that happened?
Supa: It's still kind of mind-boggling to me that what started out as a little mix tape has grown and spread around the globe, and I am very thankful for the impact it seems to be having in people's lives.
Skope: Any tour plans to promote this record?
Supa: Yes. I'm on the Texas All-Star Music Tour that begins in Dallas on September 29 and ends with a big show during NBA All-Star Weekend during February in Houston. There are a lot of dates in-between, not just throughout Texas but also Tennessee, Oklahoma, Arkansas, Louisiana and Georgia. It's exciting to work with the promoter Terry McGill who has put together some great headliners on this tour. Terry has worked in the past with people like DJ Jazzy Jeff, Will Smith, Boyz II Men, Ghetto Mafia and so many more, so he definitely knows how to make it work. People can find out more about the tour at www.texasallstarmusictour.com or by going to www.SupaHipHop.com.
Skope: What next after that?
Supa: More touring and recording. We're getting a lot of interest from colleges and universities all over, and from places like Europe and Asia.
Skope: I noticed on your website you have your own Nike shoe. That's kind of unusual. Tell us about that?
Supa: It started out as a gift from a friend that was designed just for me to use at shows. Then people started asking about the shoes, and it grew from there. We're going to be announcing a big SUPA Shoe Sweepstakes in early 2013.
Skope: Back to your music, you say you are making "Real Music for Real People." What do you mean by that?
Supa: This music is not fake. I'm not pretending to be something I'm not. We're not sitting in a recording studio asking, "How can we do what everyone else is doing?" or "What's the next big thing?" And I'm not just trying to sell records, although it's a great thing to know that people are responding to Who's That? I want to help people enjoy hip hop music. I think it's the most real music today, or it can be if it's fresh and strikes right to the core of where people live every day. And anyone who attends one of our shows knows that I'm not phoning it in. It comes straight from the heart.
Skope: What's next for Supa and where can fans find out more about you?
Supa: They can go to www.SupaHipHop.com. I'm at http://www.facebook.com/SupaHipHop and http://twitter.com/Supahiphop. As far as the future, I'm working a collaboration album that is another one of those projects that started out as something small and fun, yet it has grown. We've got some top people who have signed on to the project, and you will be the first to know when we can release who those people are.
Skope: What else for the future?
Supa: We're seeing how far "I Know" goes. It's already has over 170,000 YouTube views in the short time it has been out, which is catching a lot of attention from music business people. We're starting to work on the next video from the Who's That? album, and it looks like it's going to be even more exciting than "I Know." Then comes the next album and more touring. We're in talks about regular parts on a couple of television shows. There's been interest in having me do a couple of film roles, so we'll see where that goes. Whatever we do, you can bet that I'll never stop being grateful to God for all the good things that are happening. And I'm thankful to the fans that buy the album, come to the shows and enjoy the YouTube videos.
By: Douglas Garnett – douglas.garnett@gmail.com