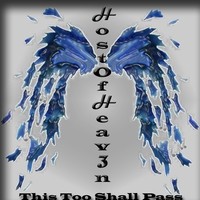 Fledgling artist, Richard Fendler is making a name for himself not only behind the turntables as DJ Heavenly but has now stepped into production and has released a series of electronica tracks under the name Hosts of Heav3n. The eight tracks are trancey, house tunes rife with layered soundscapes, electronic instrumentation and catchy transitions.
This trippy journey begins with "BackCountry" and its almost immediate plunge into eerie effects and mysterious clicks and clanks that build through to the whole of the track at the midpoint. Dancey as much as trancey, this one lays the groundwork for the tracks to follow.  
Clearly this one is a DIY effort, but one worth recognition. There is a diggable amateurishness to the album as a whole and not without mentionable merit. The intricacy of the layered sounds works without sounding like disjoined facets rather than a measure of the whole of the track. The production is mostly clean in execution, admirable for someone with just a year of production experience. With more time under his belt, I'd be interested to revisit HOH on a second outing.
http://soundcloud.com/hostofheav3n
http://www.reverbnation.com/hostofheav3n
by Chris West – cwestlaz@gmail.com
[Rating: 3/5]