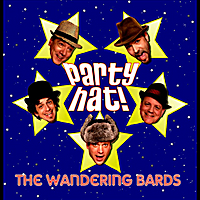 Members/Instruments: Kenny Allen: Vocals, harmonica, jaw harp, accordion and melodica Ron Baumann: Upright Bass and background vocals Mike Cardone: Cajon, tambourine, maracas, guiro and cymbals Ray Fyhr: Violin, Colin McKay: Vocals, acoustic guitar and djembe.
URL: http://www.wanderingbards.com
SONICBIDS http://www.sonicbids.com/2/EPK/?epk_id=63700
CD BABY http://www.cdbaby.com/Artist/TheWanderingBards
About the Artist: This is the latest release from New York 5 piece 5 member band "The Wandering Bards" Band members include: TWB have been described as: Entertaining, energetic and eclectic: The Wandering Bards perform a unique blend of music called "Americana-Gypsy Funk". Giving off a neo-Vaudevillian vibe, they'll make you laugh, sing and do any ol' crazy thang with their heady mix of Blue-eyed Blues, dark Gypsy grooves and foot-stompin' party tunes.
Label: Independent Music Promotions
Bio: From New York City down to the Jersey Shore, The Wandering Bards have graced many-a venue stage (Crossroads, The Saint, Banjo Jim's) and including festivals such as The Black Potatoe and Union County Music Fest. They have also performed at private parties, cocktail hours and even libraries! They have been featured on the Internet radio channel HomeGrownRadioNJ.com. They won 1st Place in the Acoustic Category on OurStage.com and thus appeared in Relix magazine.
Musical styles presented: Old Tyme Rag Blues, Alternative Coffee House Folk, Psychedelic Rock.
Review: What does a band like O.A.R, Blues Traveler, The Young Veins and Patrick Stump have that The Wandering Bands don't have? Not much if you ask me save the multimillion dollar promotional machines and major record label support. In this overly saturated genera/market a plethora of artists coming out of the woodwork, armed with nothing more than a PC, Microphone, a guitar and nothing special to offer. They manage push their music out to the masses and much of it is substandard to say the least. The Wandering Bards are the perfect example of what good music is supposed to sound like. It's the culmination of experience ,talent, solid musicianship and writing that is not forgetful. The Wandering Bards defiantly has an Old Tyme Indie-Folk/Rock swagger to them with a deep seeded earthy-Americana Rhythm and Blues/ Jazz aftertaste. Musical overtones that will remind you of acts from   The Young Veins to Patrick Stump.. But on the other end of the sonic spectrum I can even hear classic Joe Cocker to classic Litte Feat and Even Grateful Dead. All in all a well-rounded CD that has much to offer the listener — I just wish it had more than 4 songs..
My Top 2 tracks "Hazy Place" and "Party Hat."
Criticism: Is this is not an EP then it is clearly 8 songs too short. If it is an EP then disregard this comment altogether.  
Conclusion: Party Hat by The Wandering Bards stands out from other Indie Bands within this saturated market. Their answer to mundane music is to deliver something unique with a superlative signature sound to call their own. The strong suit of TWB are their passion, solid musicianship and highly entertaining charisma and melodies. I only wish I had say 8 more songs to chew on.
Rory Richardson edited by Cyrus Rhodes