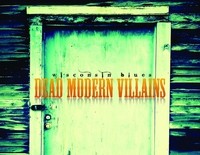 Deep from the depths of the Green Bay, Wisconsin arises the 3 headed beast known as Dead Modern Villains who released their last album entitled "Wisconsin Blues " in 2011.
I always listen to the opening track extremely carefully. It's the opening track the band or artists has selected to hit your ears first and foremost. The opening title track set the stage rather well for this CD. It was a great intro piece that stuck in my head and had me eager for what lied ahead. All in all the whole CD is brilliantly delivered with powerful Rock, guitar driven textures with songs that hit hard and has serious staying power melodically. Dead Modern Villains are: Keith Bouche (Guitar/Vocals), David Arendt (Bass/Vocals), and Mitch Rudolph —Drums. Music will remind you of Buckcherry, Green River, Mad Season and Temple of the Dog. To be honest I can't say enough about this bands overall signature sound. Their bio describes it best: After polishing their musical chops for years in the clubs of Green Bay, Dead Modern Villains busted down the doors of the rock scene in 2010 with their debut EP, Dead Modern Villains – Live at the Elbo Room. (Chicago) The band's full length, 15 track debut album 'Wisconsin Blues' was released Aug 9th 2011. The album unites Keith Bouche's melodramatic vocals with crowd-pleasing riffs to churn out a record full of heart-pounding rock. Mitch Rudolph's metal influenced drumming, mixed with David Arendt's melodic bass lines uncork rhythms to evoke a fine collection of rock songs in their purest form. With standout tracks like "Hindsight is 20/20," "Something to Do" and "Bottle of Pills," the music of Dead Modern Villains appeals to rock fans and non-rock fans alike. "Wisconsin Blues" manages to deliver music that is very loud, in your face sound and reckless. Each piece is real, not so overly- corporate sounding and very defiant in nature. Dead Modern Villains have a sound that favors the 90's Alternative Rock movement but with a modern-day Hard Rock feel. They will also remind me of a variety of bands from the 10's and 90's. That's not as easy as it sounds. They may have a new sound but the spirit of Rock remains the same. I've never heard a new band sound so fresh. In other words Rock n Roll and Alt-Rock need more bands like Dead Modern Villains immediately.
The songs that stuck with me the most were: Baby Doll, Who Could Tell, Face, Something to do.
REVERBNATION – http://www.reverbnation.com/deadmodernvillains
I-TUNES – http://itunes.apple.com/us/artist/dead-modern-villains/id456886996
FACEBOOK – http://www.facebook.com/DeadModernVillains
Final Word: If there was one word I would use to describe Dead Modern Villains it would be attitude.   This CD will simply make you want to pour coffee in your bosses head or go out and start a revolution of your own. In close Dead Modern Villains deliver the goods — in so many different and unique ways and proves there are bands out there that can still rock the house.
By Mindy McCall edited by Cyrus Rhodes