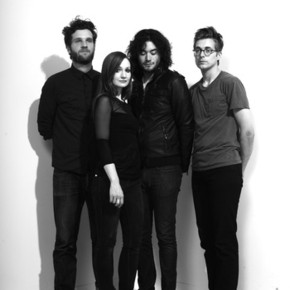 In 2009 I first introduced Alicia Wiley to Skope. She has produced 5 solo albums in the past 8 years earning a Minnesota Music Award as Best selling self released recording 2004, Best Female Vocalist 2004, and Best Keyboardist/Pianist 2006. She has been compared to Fiona Apple and Diana Krall her voice is even better. She is a gifted songwriter that mixes great classical jazz piano on some songs and a pop voice on others.

All Eyes, Alicia's current band, takes on a different style for her. She wrote all the songs on their cd "Shelf Life" and it's easy to hear that she spent a lot of time thoughtfully putting together each song.
What brought All Eyes together?
 
The four of us have played in a few different groups together: Jake and Luke played on some of my solo albums, Luke and Jake play in a couple bands together (Haley Bonar, Gramma's Boyfriend), and Joe previously hired Luke to drum on a studio project. As I wrote the songs that became Shelf Life I couldn't shake the feeling that the songs would be best served if we approached recording and playing live as a band, basically encouraging everybody to utilize and expand on techniques that we haven't been able to use as much or explore as fully in other projects.
 
Alicia did you do all the writing of lyrics, did you also write the music?
 
Yes, I did write the music, if by music you mean the chord changes and song structures. To be fair, though, the guys had a substantial role in shaping the sound of these songs, which sounded pretty different when I first demoed them! Luke's programming, Jake's wild guitar sounds, and producer/engineer Paul Marino's sonic wizardry were all key to the sounds you'll hear on the record.
"Lost You Once"
http://soundcloud.com/dangervillage/all-eyes-lost-you-once/
 
Tell me about the band and what makes it unique.
 
Well, I'm not sure if any of these facets make us unique, per se, but here's a little history. We started out shaping these songs in the studio, almost without really rehearsing them and having never played them live – in fact, the record was fully mixed and mastered before we played our first show. The studio dynamic was key to shaping the band's sound, and we spent many hours sorting through a wealth of raw material to make sure that each song was as strong as it could be. We've all played in many kinds of other bands for many years, which was important both for studio experience and in understanding a band's dynamic. I think we've all learned to check our egos and be quite open minded at this point in our lives, and it's important to all of us that there be very little conflict or drama in this group. We view All Eyes as a place that we can experiment and mess around with approaches we've always wanted to try but couldn't, so we're excited to keep making music and pushing ourselves to broaden our creativity.
 
Who are the musical inspirations for the band?
 
It's tough to answer this question without sounding either like a repository of arcane underground music or like a cliche (I mean, who can't tell we all like Radiohead and Beach House, etc.?). That said, I think we're most inspired by what the others in the group are bringing to the table and what we each want to reference in approaching a new song. We'll come up with little rules, too, like if a song sounds a like a swampy blues number on the first rehearsal, only one person is allowed to sound any bit bluesy on the next attempt, and so on until the song is totally transformed.
 
Tell me about the CD, Shelf Life.
 
Shelf Life marks a new beginning for us creatively. We love being part of a project that is more collaborative and adventurous on the creative end both in the studio and in a live setting.
 
What other projects are you working on?
 
All Eyes is the main project right now. In fact, we've just started writing our second album, so between releasing Shelf Life, playing live, and writing/rehearsing new tunes, the plate's pretty full.
 
http://facebook.com/alleyesmusic
By: Diana Olson – diolson05@yahoo.com