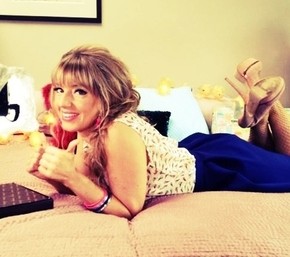 'Sunny' is a track from Kelly Waters's latest EP High & Dry, which was released last December. This hugely catchy, fun Summer anthem has had recognition from Kelly's fans all over the world.
Director James Tonkin from Hangman Studios, who recently worked with Coldplay, and DOP Den Lennie from F-stop Academy created a fantastic video, which was shot in London in August 2012 using a Sony NEX-FS700. The team put together a tongue-in-cheek video shoot that brings the track 'Sunny' alive.
[youtube 6SyRxPxcrVc]
Singer songwriter Kelly cleverly uses dictionary descriptions to sing the fantastic tongue twisting lyrics about the rush of excitement she felt when she found love and compares it to eating chocolate but notes that love can also mean a score of zero in tennis or squash! Kelly looks absolutely stunning in this video where she is baking cup cakes 'vintage style' in her London kitchen and then sipping a cup of tea knowing that she cannot change the direction of love and if she's clever she will 'leave be, what will be'. You will also see a snippet of her playing her guitar as she sings about how sunny her man's smile is and how much better her day is getting.
Kelly oozes style, beauty & happiness that couldn't fail to lift your spirits, buy some baking ingredients and think about re-igniting your love life. This inventive & witty song 'Sunny' is one not to be missed and the video brings a dimension to the lyrics that really makes you believe.