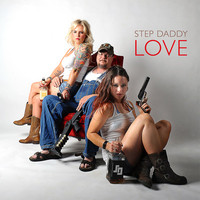 Bio: This is Step Daddy's latest CD entitled Love released in 2012. The Band's been around for about 9 years now. In their own words: "Step Daddy is the collaboration of 4 Seattle veterans, each having more than 10 years of experience in the Seattle music scene. It's members have played in such acts as the Kindness Kind, Ben's Jazz Kit, Kate Tucker and Pawn Council. Since their inception they have written more than 25 songs and on the eve of the release of their first LP, are already planning the tracking of their second.
Review: Love is one release that certainly doesn't disappoint. This is one band that brings to the table effective songwriting via a whacked out, trippy musical delivery that is at times explosive and very unpredictable. This meshed with a one in a million Alt-Rock sound and effective visuals and vocals make for a very effective combination no doubt. Step Daddy is just a breath away from what I would call Progressive Psychotic-Punk but skillfully and methodically never crosses the line into either realm.
http://www.reverbnation.com/stepdaddy
All songs are wonderfully simple but masterful in their overall arrangements. Music reminded me of a cross between Tool, Faith No More and even Stone Temple Pilots. There's definitely a deep, sarcastic musical vibe reminiscent of Maynard Keenan's Puscifer project. This CD is quite unique and entertaining overall with an amazing vocal front of Ben who is a musical triple threat in my mind.   This is a world class Rock band, and the musicianship will make your head spin. Ben has an amazing voice and the rest of the band are clearly accomplished players within their own right. The lyrical content is straight from freshly dropped Acid and offers a very mysterious and mind numbing "hall of mirrors" lyrical" landscape. All song do exactly what they are meant to do via well-crafted movements and top tiered musicianship. The overall production value is superb with a crystal clear sound quality and solid low end punch.  
Top Tracks: All of them
Criticism: None
Song Samples from Love @ BANDCAMP:
http://stepdaddy.bandcamp.com/
Conclusion: Step Daddy has proven themselves with this latest release. They are clearly an up and coming talent around Seattle, and it makes me happy to know there are still good bands coming out of the Emerald City.   I must admit Love sucked me in like a powerful drug and refused to let go long after the CD was over. This usually indicates he is something special about the artist or band in question. Thus deserving praise, recognition and musical fame at the international level.
Drew Blackwell edited by Rory Richardson
[Rating: 4.5/5]