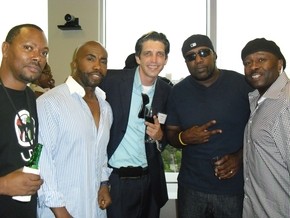 Word on the Mirosa Beer Party in the Park is spreading like wildfire–last week, we had a Jazz artist from Detroit named Tim Reid fly down to perform with his band. Out of the blue, my late 90s friend Calvin Jennings from Ed Robinson's (Cameo's keyboard player) studio compound appeared. Calvin has some new things going on at www.lil-boy.com and www.corp.lilboy.com, and he came down with a young, college-aged kid named Ryan Klos (www.reverbnation.com/ryanklosmusic).
It just so happened that they made a Mirosa Beer commercial: I immediately had it thrown it in the CD player, so we could play it and see how the crowd responded. I remember it went over well and ever since, Calvin has been coming back with Ryan and even brought guitarist Matty G to perform the jingle live, along with a few original tunes. Like I said before, the Mirosa Beer Party in the Park brought out all kinds of folks; even basketball player codename Robert "50" Martin came out to enjoy the vibe; I made sure he left with a case to go.
For the kids, there was a pony ride one week, but the pony couldn't stop chomping on the park grass and had to go. The owner went for her vehicle to transport the white pony with pink highlights back to the ponderosa, and I was left holding a rope–attached to the horse. Suddenly, it started raining and I was singing a new song called "Walking A Horse in the Rain." I guess that's better than being in the desert on a horse with no name, like 70s Rock group America said in their song. Thanks to the Millenium Gate's Donna for rescuing me! All I can say is, he who mixes the cultures wins–Stephen Stone did it at Ruffhouse Records and with the Fantanas–plus he's doing it again, with Anything But Monday and Mirosa Beer. Optically speaking, I recently saw Stephen chatting with video dudes like Clear Image Studio's Donnell "DC" Chandler, "Toon Troop" Williams and DeWayne "Green Garage" Mincy of Palladium Pictures so that only means one thing, reality show speaking…  
We'll keep you posted on the latest developments–stay tuned!
Pic: Peachtree Village International Film Festival — Full Force with Mirosa Beer's Barry Huff and Josh Golden
Mp3: Mirosa Beer jingle – www.reverbnation.com/ryanklosmusic
[youtube 0AJuX0IS-0c]
LA Jackson – musicmon101@gmail.com