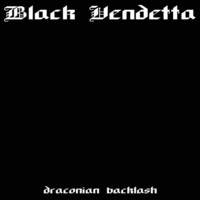 After leaving his hometown of Harrogate, UK singer/songwriter, Nathan Virica trekked South to the bustle of London to taking his band name with him and his career in another direction. Now with some time and adjustment under his belt, the fledgling artist has released his first album, Draconian Backlash–8-tracks of varied guitar work and slight instrumentation over a small cadre of female vocalists.
[youtube xVL4NiwSDPA ]
Opening to "This Is Where It All Begins" with its heavily distorted electric guitar work and Killers-esque synth blasts, sets the "less is more" ethos of the album. Slight time-keeping percussion serves as foundation for the electric with singer Layla Amini's vocal delivery at the foreground. The tempo slows slightly on "Go Ahead Make My Day." This melodic ballad opens to acoustic and electric tandem and backing strings before surrendering to guest vocalist Lauren Slater. The down tempo ethos of the verses gives way to the anthemic chorus and soaring electric work. "Leave Me Now" continues the slow, melodic middle of the album with acoustic picking and more guest vocals from Slater. With nary a percussion beat in this one, this allows Virica's lyrics and guitar work to shine at the forefront. "Tennis Girl" rounds out the breadth of the album with deconstructed pop sentimentality at work between acoustic and electric guitar work and underlying keys and bare bones backing percussion. The vocals feature occasional duet work between Virica and Slater and lyrically seems to illustrate requited love within fandom.
[youtube AqdmxAcOUuI]
Clearly, this is a DIY effort and the album reflects that. Certain facets could benefit from a bit of post-production polish and perhaps a nod to uniformity in the sound between the tracks. But Virica's songs have a certain swagger that that not only makes them approachable, but catchy. The musicality is there. The songwriting is there. But the album as it is could use an engineer's touch.  
http://www.reverbnation.com/blackvendettababy
by Chris West – cwestlaz@gmail.com
[Rating: 3/5]