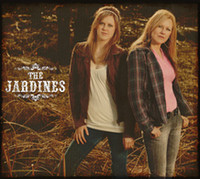 When Cherelle Jardine was set to release another album, she asked her daughter, Ajaye, about a collaboration project. From that, their self-titled LP was released. The project worked so well, mother and daughter team is set to release their sophomore full-length, Someone's Stolen Tuesday–11-tracks of their pop nuanced Alt Country. Assuming dual writing and tandem vocal duties, the album is vocally driven with standard Country instrumentation and deep, emotive lyrical matter.
The album opens with the title track, "Someone's Stolen Tuesday." Acoustic and electric lay the melody while bent note steel guitar, piano and assorted percussion add fills and bolster Cherelle's airy vocal delivery. The track foreshadows the vocal drive of the tracks to follow. "Torn" features Ajaye with vocal duties and youthful exuberance shines through in her delivery. While there is some weepy steel guitar backing the vocals; this one plays out more radio friendly pop tune than traditional Country track. That being said, it doesn't detract from the fact that when it comes to strong songwriting ability, the apple didn't fall far from the tree. "All Fall Down" is really what I was waiting for with mother and daughter assuming dual vocal duties rather than one backing another. The tandem lines meld into one strong voice at the harmonized close of the verse. Acoustic and electric, alongside piano, lay a melody that plays out rendering a song that lyrically, speaks of hope and support. Piano opens "Crazy World" and drives the melody with Ajaye again assuming lead vocal duties. This down tempo love song sees a slight retreat of the instrumentation with allowing the vocal delivery to shine through. "Blame it on the kiss" is a true Country rocker with jangle piano and bent note electric fills lead the musicality of this one. The pure Country ethos of the track smells like a single and it would fit nicely in standard rotation on any contemporary Country channel.
[youtube pFxNqN_7JI0]
The standout facet of the Someone's Stolen Tuesday is the power these two women command vocally. Whether sharing vocal duties or harmonizing at the chorus, vocals are the strongest instrument in the outfit. Cherelle has a clear prowess at songwriting and Ajaye seems to be coming into her own as well… Cherelle lends the experience of a veteran songwriter to the mix while Ajaye brings her innocent appreciation of myriad of influences. Simply put, this is just a good blend of Alt Country roots and approachable pop that fans of the genre should be on the lookout for come October.      
www.facebook.com/thejardinesband/info
www.thejardinesband.com
by Chris West – cwestlaz@gmail.com
[Rating: 4/5]