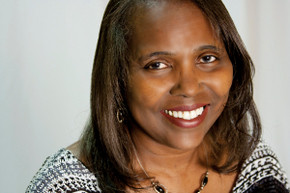 Karma Dean grew up in a musical family in Memphis TN. She was inspired by her up bringing and decided to pursue her dreams through music. She became a church musician at age 14 and eventually joined an R&B group. She poured her heart into her endeavor but decided to embark on a career in gospel because that was where her true passion lied.
Karma has devotion that spills from her soul into your ears. She is an inspiration to anyone with limitless hopes. She understand trials and hardships and she knows her faith and positive thinking can conquer all. This has worked for her through out her life and now she is here sharing her story hoping to inspire hopefuls following closely behind.
I asked her why she took the path of music and she explained, "I was inspired by my parents who unfortunately are no longer with us. My mother was a church musician and my father was the lead singer. Being in a musical family was a great inspiration for my brother and I. We sang, prayed and loved together and they will forever be alive continuing to animate our lives through music."
Karma found solace and peace through her church. Not long after singing in a R&B band she decided to thank her savior for the gifts she was given and started a career in gospel music. She wants to continue her growth and share that message with others in hopes to lift them the way she has been lifted by the gospel. Through her songs she reaches out to people everyday with strength through positivity. That positive vibe is what brought her through her dark moments. When the light is absent she listens for the melodies to pull her through.
She speaks with such sincerity one cannot help falling in her trance of wisdom. I felt compelled to ask her for direction and advice for up coming musicians making the climb to the top and she continued, "I found out that there are a lot of haters in this world.   It doesn't matter what genre a person decides to choose, he or she will find out that there will be stumbling blocks and mountains to climb. So, don't let negative comments and critiques stop you.   If you receive 1 negative, seek 2 positives.   If you receive 2 negatives, seek 3 positives.   It may seem to get hard sometimes, but don't give up.   For every day we hang in there it brings us one day closer to perfection.   When mistakes are made, Lord knows that is inevitable, we must learn from them in order to improve. Education is never ending. As long as we are always open to the opportunity to learn we will forever sour to greater heights."
She left me speechless and in awe of her sincerity. In our daily rat races it is easy to succumb to the negative forces trying to knock us down. People like her are few and far between and quite honestly she is a refreshing change of pace.
At this point I was addicted to her positivity and respectfully asked for more as she said, "My lyrics will always have a positive message. To me, music is music.   It does not matter what style, as long as the message is received.   When you put gospel lyrics with jazz music, you have gospel jazz.   When you put gospel lyrics with blue grass music, you have blue grass gospel. No matter what style of music an audience is attracted to, if there is a positive message, it can be received. My songs are scriptural, straight from the Bible.   I go straight to the source because that is what speaks to me. I hope that my music can be very encouraging and put a smile on people's faces and give them hope when it seems there is none."
I received it loud and clear, with a big smile from cheek to cheek.
[youtube 8PHYoRavcdw]
So, why stop there? I asked her if she had any desire to attract a more secular audience and she eagerly answered, "Yes, I do have interest in attracting a more secular audience.   I believe that a good sound track is very important in accomplishing that goal. People love good music regardless the genre. I believe if the music catches the ears, the lyrics will be heard. Some examples of artists in the gospel field who crossed that line are Kirk Franklin, Tye Tribbett, and Mary Mary. If I continue to stay focused and true to myself I believe I will follow in their foot steps to success."
She certainly has my attention and respect for putting her best foot forward and standing up without shame for what she believes. She is not asking anyone to think how she thinks but simply giving love out into the world in hopes of getting a little of it back.
For all you music lovers out there, let's tip our hats to a woman who decided to walk her own path and leave a trail of joy behind. I'm sure we have all been bombarded with negative thoughts and words, but being in her presence it was easy to absorb her friendly vibe. In fact, she inspired me so much I could not wipe the grin off my face, I was shaking hands and saying hello to strangers on the streets. All it took for my transformation was a conversation with the lovely and talented Karma Dean.
Positivity is alive and well and Karma is using it to stay focused on making the music world a much nicer place.
http://reverbnation.com/karmadean
By: Rebecca Hosking – hoskingrebecca@gmail.com