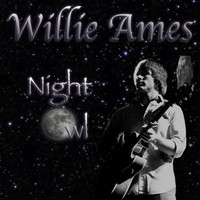 About the Artist: This is Ames latest release entitled Night Owl (2012). Ames is based out of Los Angeles and was recently awarded Solo Artist of the Year and performer in the 20th Annual Los Angeles Music Awards (LAMAs) 2010 held at the Paramount Theater in Hollywood, also at the award's voting party at the classic Whisky A Go-Go! What's more he Covered in SPIN Magazine, Relix Magazine, Under the Radar Magazine.
URL – http://www.willieames.com
Review: Night Owl is one release that certainly doesn't disappoint. This is artist that brings to the table effective songwriting via a highly marketable musical delivery. This meshed with a one in a million Pop-Rock-Folk sound and effective visuals and vocals makes for a very effective combination no doubt. Ames is just a breath away from Modern Folk or even Country but skillfully and methodically never crosses the line into that realm. All songs are wonderfully simple but masterful in their overall arrangements. I can also hear a slight old school psychedelic touch to the music like Fleetwood Mac. I might add Ames is no slouch on the Banjo. Music reminded me of a cross between Kenny Loggins, Jackson Browne, Dave Mathews Band and Bob Dylan. This CD is quite entertaining overall with an amazing vocal front of Ames who is a musical triple threat in my mind.   He is a world class songwriter; he has an amazing voice and a likeable appeal (visually and vocally). His lyrical content is straight from the heart and offers a very strong and confident male perspective and spirit. No doubt many females will love him as well. All song do exactly what they are meant to do   via well-crafted movements and top tiered musicianship. The overall production value is superb with a crystal clear sound quality.
Top Tracks: Title track, Neanderthal, Desert Run
Criticism: Ames should put at least one "Bad or Naughty/ Bad Boy" statement on his CD that goes against the grain of the rest of the material. I think this will keep people guessing, off center and speak to even more fans in the process.    
Song Stream @ TOTALLY FUZZY:
Conclusion: Willie Ames has proven herself again with this latest release. He is clearly an up and coming talent around Southern California.   All band members backing him up are clearly capable musicians. I must admit "Night Wol" sucked me in like a powerful drug and refused to let go long after the music was over. This usually indicates he is something special about the artist or band in question. Thus deserving praise, recognition and musical fame at the international level.
Drew Blackwell edited by Rory Richardson
[Rating: 4.5/5]