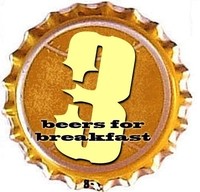 With more of a southern rock feel, the music of 3 Beers For Breakfast cannot just be classified as Indie Country. Having more of that rocker type rhythm and flow, as opposed to too much twang, 3 Beers music is one of those sounds that will make the breakthrough from just mainstream country music to get play on many a rock station as well. This 5 track EP offers a taste of many styles of music all centered around the southern rock/country realm, but even has a pop rock feel a bit in the second track "The Truth".
In the digital age of music, many bands have started making their way to delve into several genres to create new sounds. # Beers has done that with this EP, and done it to perfection. Bringing to mind some aspects of great classic southern rock bands like Lynyrd Skynyrd, and even some newer pop rock like Nickelback.
On the first track, "Questions of Life", they blend some great lead guitar by Steve Emery around a campfire rhythm set by Jason Gilliam and Kurtis McKinney who also does the vocals for the band.   Held together by the bass of Mike Womack and drums of Drew Klenczar. A sure lighter song at any live performance, this track has a feel good flow and shows off some really great guitar work on lead throughout.
As mentioned, the second track on the EP, "The Truth", has a more pop southern rock feel to it. More of a bleak song about the truth in a man beyond help. Heading down a road with many bumps and twists, but that still keeps on keeping on. Giving a glimpse into the truth of a man that doesn't any longer believe in any type of salvation for himself. The vocals of the song are more towards the country side of 3 Beers, while the music bends more towards the pop rock feel. All together very masterful in that it fits together perfectly.
On the third track, "The Woods", you get a bluesy country sound. A story of love between a woman and a country boy. That the woman's life is now transformed due to falling in love with this country boy. Not being able to return to the life she knew before, because she sees that this is real and true. A good love song, without the trappings of materialistic views and things. Sounding real bluesy, but not having any of the blue feelings. A great touch.
On the final track of the EP, "My Fathers' Son", 3 Beers offer more of the southern rock feel, with country body and lyrics. A song about the struggles of a man coming into his own in the shadow of his father, but feeling like he has eclipsed what his father has been to the world. Something any man can relate to, no matter what genre of music they tend to lean towards.
Overall, 3 Beers For Breakfast EP is very enjoyable. With a sound ranging from country to southern rock, with a touch of blues and pop rock, the band offers music for many different tastes. The EP was done very nicely, production and mastering done brilliantly, to give 3 Beers For Breakfast fans their sound to perfection. A great CD to have playing by a campfire, or for backyard barbecues, and even to sit with that significant other out watching the stars. 3 Beers For Breakfast are here to stay, and this EP only solidifies that.
3 Beers For Breakfast Links:
Facebook: https://www.facebook.com/3beersforbreakfast
ReverbNation: http://www.reverbnation.com/3Beersforbreakfast
By L. White
[Rating: 4/5]