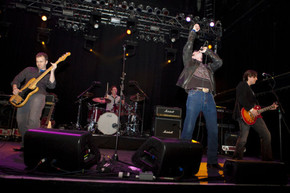 Serial Obsession is a hard driving rock band from New York City. In just a few short years, Serial Obsession has garnered a ravenous fanbase, produced 3 cds, opened for major acts, hosted charity events and have been heard on radio stations all around the world. While most bands take 5 years just to come up with a name and a demo, these guys have worked tirelessly round the clock and the latest result, the 'all or nothing' e.p. shows that these cats are for real.
Musically, Serial Obsession has been compared as a CheapTrick meets Velvet Revolver, a classic type of rock band. In reality though, the band's sound has more in common with some of those great rock bands of the '80's, before the grunge came and crashed the party. You could also call them a bit of modern rock without the gloom.
digdugdisaster: You've played some really great places in NYC such as CBGB's and Irving Plaza, what were those experiences like, knowing that so many legends have shared the stages?
[youtube W6ELjKqzQok]
serialobsession: Our first gig was at CBGB's.   I think we were so excited to be playing out for the first time that the majesty of the venue didn't sink in until we were done.   We played a second show there just before it closed and the knowledge of putting your foot on the that stage where so many world famous bands got their start was the most empowering feeling.   It felt like, no matter what, we started on the right path.   Irving Plaza carries a different kind of weight.   Warming up back stage felt like an arrival.   Stepping out on that stage was easier than falling down.   The crowd and the energy was so great, we could do no wrong.   It was early on for the band, but we could always say, "We played Irving Plaza."
digdugdisaster: When you perform, do you play originals or covers or a bit of both? I know that here in the south the classic rock cover bands are more popular than ever before, almost more popular than the bands they cover in their heydays you would think. It's crazy.
serialobsession:   We have been known to throw a cover into a set.   It's fun, but we play our own stuff.   Our sound probably satisfies a crowd looking for a rock/alternative cover band playing 70's/80's/90's stuff while bringing something new to the table.   When we play, we put on a show with original music and enthusiasm.   We don't want someone to walk away saying, "i saw this band do a great version of 'It's So Easy'."   We want them to say, "I saw a kick-ass rock show last night."
digdugdisaster: NYC is known for snooty indie bands and a mostly Brooklyn art scene to outsiders. Is there any truth to that? How do you fit into the NY music scene?
serialobsession:   Yeah, we are a bit adrift in that arena.   It is hard to convey that we play hard rock with massive beats, ripping base lines, and killer guitar solos without a sense of irony. We play this music because it is what we love and want to do.   It speaks to the core of us.  
digdugdisaster: How did the 'all or nothing' e.p. come together, who does the writing primarily?
[youtube gY5Ub3mVPk0]
serialobsession:   This was a really fun writing process.   It felt more like a collaboration than ever.   Usually, Shawn does the lyrics and melody with some chord structure, Mike does the riffs and chords, Motts sets the tone of the song, and Jason finds the groove.   By the end, we make all that work together   But, this time around, we wrote more as a team.   Motts threw out some lyrics and melodies that hit him as Mike would play a new tune and Jason would start laying his bass lines down.   Shawn took those lyrics and melodies and twist them around to get the final product.   We all put ideas out, tried different riffs/grooves/chords and landed on what we all wanted.   We are really lucky to be in a group that is willing to listen and work hard to get the best result.
digdugdisaster: Briefly introduce the band members and what they do.
serialobsession: Shawn Sugrue lead vocals and guitar.   Mike Suozzi leead Guitar and vocals.   Jason Rosin on Bass.   T.Motts on drums and vocals.
digdugdisaster: As an independent artist/group, how do you feel about all the major shifts in the music industry, and also, do you think your band is helped or hurt by current conditions?
serialobsession:   It is a hard realization that if you're not a tean pop, hip-hop or dance act, there is no record contract for you out there.   Maybe because they think that music is more universal or becasuseit is cheaper to produce.   There was always a shady element to the music industry, but we miss the support it gave.   iTunes, Amazon, and CDBaby have done a great job of letting acts distribute their work, but the saturation of the market is such that it is hard to rise above the fray. There are a ton of internationally popular groups that still have to work day jobs.   This only means that we have to work harder and harder to get our music heard.   We don't mind.   We're not afraid of working.   But it would be nice if we only had to work on our music.
digdugdisaster: Do you have any plans to travel across the country anytime soon? Do you setup dates through an agency or do you set them up yourselves?
serialobsession:   We use local promotors, usually.   Mike does the lion share of that.   We have set up some great gigs in the past.   We would love to tour all around the world.   That is our goal.   All we need is to get the support and that means getting our music heard.
digdugdisaster: What's next on the agenda for Serial Obsession?
serialobsession:   first: keep rockin'.   second: keep rockin'.   third: maybe a sandwich?   Then, rockin' fourth:   promoting this new EP.   We are really proud of it and want as many people to hear it as possible.
digdugdisaster: Any last words to our readers? What makes you stand out from the crowd as a band?
serialobsession:   LOUD ROCK 'N ROLL.   It wasn't broke.   Why did they try to fix it?   We put on a great show with enthusiasm and honesty.   We leave ourselves out on the stage every night we play.   Go big or go home.
Thanks for sharing with us @Skope Mag, Serial Obsession is a great way for younger readers to hear what the fuss of the '80's was about, without having to take a trip in a time capsule. It's also refreshinly catchy and fun to listen to. For the older readers, Serial Obsession is a great reminder of why we liked rock n roll in the first place.
check out http://serialobsession.com for more info and to purchase the band's latest e.p. 'all or nothing'.
By: Douglas Garnett – douglas.garnett@gmail.com – http://digdugdisaster.com