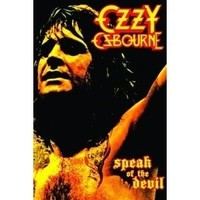 This new release, features the big haired blonde Ozzy with the black eyeliner crazed look.   The Diary Of A Madman tour resumed soon after the death of his young super star guitarist Randy Rhoads, serving as a tribute.   The concert was filmed at Irvine Meadows, CA on June 12, 1982.   The sound has been digitally re-mastered and is available in DTS and Dolby 5.1 Surround Sound.   The backing band is an impressive lineup of road vets, Brad Gillis on guitar, Tommy Aldridge on drums, Rudy Sarzo on bass, and Don Airey on keys.  
Following Randy's death, touring was extremely difficult for the OZ man.   The set list includes Ozzy's solo hits as well as some Black Sabbath classics.   Adding to his wild look, Ozzy is strangely attired in some sort of super hero looking outfit.   He's wearing a red shirt (which he later discards); blue stretch pants (with black knee pads), a metallic belt, white sox, and red shoes.   There is a large castle stage set, with the drum platform at top center, a throne appears for Ozzy's entrance, and a noose hanging is added ala Alice Cooper.   There are some 80's era light effects and pyro added throughout the show.  
Throughout the show, Ozzy is energetic getting the crowd into the show while parading around the stage as if he's half tripping.   The band is very tight, and Brad and Tommy get to solo.   What's interesting, is noticing that Ozzy doesn't use backing vocals, and regardless of his state of mind, is always on track and on key.     Highlights are Crazy Train, Goodbye To Romance, and Paranoid.   They have gone a good job re-mastering the sound, but the video often times isn't sharp and the camera is panning from the back row while something is going on onstage.  
It is all in all a good performance, and a must have for any Ozzy diehard.   Another plus is that the DVD is reasonably priced.   Fittingly, for the finale, Ozzy puts in some Vampire teeth and grins to the crowd!  
By R.M. Engelman
[Rating: 3/5]