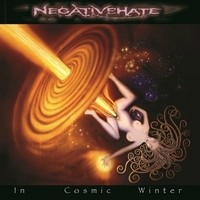 About the Artist: New York 4 piece band Negativehate just released their latest CD entitled Min Cosmic Winter in 2012. Band members include Mike Stewart (Drums, Electronics, Vocals), Pat Dorme (Drums) Eric Stewart (Bass), Chuck Scandura (Guitar, Vocals) and Dmitri Benzinger (Percussion).
Review: In this overly saturated genera/market with a plethora of artists coming out of the woodwork, armed with nothing more than a PC, Microphone, a guitar and a crappy sounding CD — it's nice to know there are a few bands that can still rock out and play their instruments the way they're supposed to be played — like Negativehate.   These new I speak of manage push their music out to the world and much of it do I dare say is substandard to say the least. So what do bands like Tub Ring, Liquid Tension Experiment and King Crimson have that Negativehate don't? Not much if you ask me save the multi million dollars promotional machines and major record label support. Negativehate breaks the mold in half with their powerhouse sound and amazing movements that will sizzle both the novice and advanced listener. In Cosmic Winter   delivers invigorating music that has a deep seeded Progressive-Rock roots. The playing skills of the band is red hot and the production value is average for an Independent Artist. Musical overtones that will remind you of acts from The Mothers of Invention, to Captain Beefheart and His Magic Band, to Tub Ring and even Gentile Giant.   Right now after hearing their music and checking out a few of their live clips — they are what we've been waiting for musically. I don't say stuff like that often. All in all a well rounded CD that has much to offer to many different listeners. Aapparently there are still a few bands out there believe in melting your face, making your ears bleed and blow you out of your chair all at the same time.
Criticism: CD sound quality is somewhat lacking. Sounds murky to me . I died a slow and painful death of Reverb over-saturation.  
URL – http://www.myspace.com/negativehate
Top Tracks: Planet X, God is a Woman, The Last red Dwarf,
Purchase Link: http://www.discogs.com/Negativehate-In-Cosmic-Winter/release/3479774
Conclusion: Negativehate stands out from other Indie-Alt artists in a good way within this very saturated market. Their answer to mundane music is to deliver something unique   and powerful with a breath of fresh air, a highly technical playing styles and a   signature sound that refuses to be defined via 1 listen. The strong suit of Negatgivehate is there amazing amount of unpredictability and top tiered originality. What's even more impressive I can't recall a band with playing styles like this since the early 90.s . The strong suit of Negativehate is their passion and ability to write you a powerful piece of music via solid musicianship and deep messages that speak to the heart and mind. One would be wise to keep a watchful eye on these gays over the next several years. At the end of the day Negativehate truly has something special to offer music a fans all over the world — especially those that still believe in tripped out Alternative Metal.  
Review Written by Rory Richardson
[Rating: 4/5]