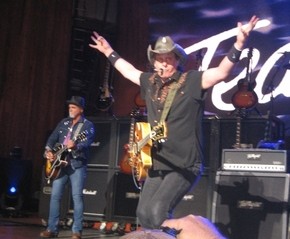 The three arena savvy acts took over the stage braving 90+-degree temperature and matching humidity.   As the main show started at 7:00, the venue gradually filled up, including the grassy knoll area.  
First off was Uncle Ted, with original singer Derek St. Holmes, which was great hearing his voice/guitar on the classis Nuge songs he originally sang like Stranglehold, and Hey Baby.   Ted of course ran through the hits (while doing some sexy moves), along with his standard brief rants both political and philosophical, and included his traditional salute to the troops and those military folks in attendance.   His claim that Cat Scratch Fever was the "Ultimate" love song ever written was given rebuttal onstage later on.   Ted featured a nice display of Les Paul's hanging on his amp stack, along with a hunting bow leaning to the side, which he didn't put into service, saddening the audience that managed to see it there all locked and loaded!      
REO Speedwagon featured frontman Kevin Cronin on guitar/vocals most of the night, and briefly on piano.   They too ran through their hits and some album cuts, with Kevin running around the stage like Mr. Jagger.  
Styx brought the same intensity as they did throughout the years.   The set list included the heavier rock favorites, and of course the ballads Lady, Come Sail Away, and The Grand Illusion.   Let's face it; Lawrence Gowan and his rotating keyboard is always a fun experience.   Guitarist/singers, James Young and Tommy Shaw got the crowd into the show with side-by-side mugging for photos, and bouncing across the stage acknowledging every section of the crowd.   Known for their theme approach to albums, Tommy explained that "Back in the days of vinyl records" bands would specially craft an album from side to side with a purpose.   They closed out the show with Rocking The Paradise and Renegade.  
This show continued to prove the fact that the classic acts still have the following to support their tours.   The groups took advantage of the wide screen backdrop behind them with videos relating to their play list.   The audience was with them for the entire show, providing sing alongs with out being prompted.   Better yet, the performers gave props to the crowd, and seemed to be enjoying the whole experience as much as them.   Everyone was in great voice, and really sounded like themselves!  
By R.M. Engelman