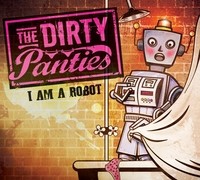 About the Artist: The Dirty Panties are a 4 piece Puck Rock band from Las Vegas, NV. and have been making a name for themselves regionally. They have received critical acclaim from many music critics and webzines around the globe thus far in their musical career and are known for their explosive live performances. Musical Genera: Punk, Indie Rock.
Review: "I am a Robot" (Squidhat records) is their latest release and the result though far from a self-indulgent ego trip, rather a moving and elegiac artistic statement from start to finish. This is not your overly predictable Ramon Noodle Indie Rock band. Instead band members: Band members consist of Barbara Lenox (Guitar, Melanie Ash (Lead Vocals), Michelle Lil' Moe" Meyer (Bass), and Kayley "Animal" Malcolm (Drums) could be classed as a 3 genera band: Alternative Rock, Hard Rock and Punk-Indie Rock. The Dirty Panties have way too much precision and clarity to live in the shadows of overly-predictable Indie Rock. Indeed this is clearly evident in songs like "Wet" and classic cover track "Money" which methodically ups the ante to a very respectable level of catchy musical craftsmanship and addictive melodies that transcends typical pigeonholing. The music is also commercially viable with a fresh sound and a rock hard-rocking vibe that holds the attentions span of the listener perfectly. In a nutshell this is The Runaways meets L7. The 13 song line-up appeals to many listeners with a wide variety of musical styles — but it packs a powerful punch with a powerful voice for young woman who have had enough of the status quos.
http://www.thedirtypanties.com/
Top Tracks: Cheers, Confighted, Take it to the Grave
Criticism: I don't care for some of the over the top profanity to be honest.
Song Samples from Thankful @ INTERPUNK:
http://www.interpunk.com/item.cfm?Item=203658&
Conclusion: I would imagine in time we will hear more from this band in the near future. No doubt The Dirty Panties has carved a marketable niche for themselves thus far setting them up for marketable success over the years to come. I would not be surprised to hear them head-lining say The Warp Tour this Summer. But for now I can honestly say this is one artist that clearly gives you a musical snapshot that is highly original, unique and dare I say dangerous and chaotic in scope. What else would you expect?
By: Michael Rand edited by Rory Richardson
[Rating: 3.5/5]