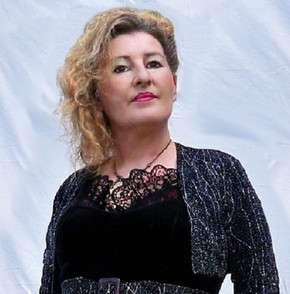 I am feeling real good today, as the sun is shining & the music has started to play. I get tons of muscians and bands constantly asking to be featured in Skoped Out. These same people do not realize that these days it is not just the music that will get you featured. There must also be an image, story, rarity, and much more. Anyone can make music these days in their room but can you market & sell the music is what matters. My guest today has got that package that I am looking for and she is Kasia Beesley. Kasia is from the UK and has been making music for over 3 decades now. Step out of your musical comfort zone and be ready for some opera/classical vocals and instrumentals that will ease you thru the day. Join me and Kasia speaks on her musical education, will her music go mainstream, the advantage to making music at 50+, and much more!
Stoli: Where are we talking from today and how is your summer going?
Kasia: I'm talking from the England in the UK. My summer is going great thanks; got lots of projects on for the future in music/art & video form. So plenty of creative time happening in my summer this year. However the weather over here is unsettled to say the least! We've had some fantastic thunder storms recently, and unfortunately quite a bit of flooding throughout England as a result.
Stoli: Being from the UK how concerned are you about the Euro debt crisis and has it effected your life at all?
Kasia;I feel sad that it's happening at all- but I think we have to do what we can to get on with life really. I'm not a great worrier when it comes to such things because we all have to go with the flow! That is I'm sure it will work out in the end. I hope so for everyone.
Stoli: At what age did you realize you had incredible vocal ability and you were going to pursue music?
Kasia: Well…singing from an early age and being a Headchorister for our local Church and for the School choir for some years, I had gained quite a lot of experience as a soloist by the age of 16; so you could say it was one of those things i grew up with and became part of my life by then. So i took to writing my own songs quite early in my life although I had never had the instrumental means to get them produced. Neither had i studied music at school; thereby I was a musician 'by ear' so to speak. Music has always been something I've had in 'my bones' as the expression goes.And listening to all different types of singers, composers and artists over the years has been a wonderful thing in my life.
Listen: http://kasiaclassics.com/music_by_kasia_17.html
Stoli: When you are singing one of your ballads in front of an audience or in studio how do you feel on a personal level?
Kasia: I feel fine that people enjoy what they hear-so they say. It's great that the audience like my music. I'm so glad some people actually love it- it makes my day.
Stoli: You have an impressive resume when it comes to your musical education. How did getting your BA in music and working with vocal coaches help enhance your overall talent?
Kasia: Thank you. Its been hard work at times from my part and always looking to study to improve or inspire what i'm doing myself as a creative writer and singer. Its been very helpful or me to hone in on my individual and personal skills to be more creative.
Stoli: I really like your song "Heartsong." Who wrote that song and what does it mean to you?
Kasia: I wrote'HeartSong': you have chosen one of my oldest songs i wrote the tune and lyrics a long time ago; however I was never sure of what accompaniment I wanted for the song to bring out the true emotional depth of it until about 2002. Although I did try a few of my own songs with local bands a long time ago; I couldn't get the sound I wanted for my own style with them at the time. That's what I love about writing as a songwriter- the creative process can be very quick to complete a piece or it can take years. I do have some songs which I wrote very fast-'FlashVision' took me a matter of days."Heartsong" took ages."HeartSong" is about   one of the great and powerful things in life we all share as people- LOVE- and as a writer I find the topic extremely inspirational to stretch the imagination in the way it can be protrayed or felt as an emotion.There are so many different kinds of love to suit everyone, and it is a free entity of personal choice to whomever chooses to love.So the song means a lot to me as it's like promoting love- if you get what I mean by that- I'm all for great emotions for people around the world to give them something special- Yeah- Love is at the top of my list.
Stoli: Give us some insight into when you are going to create new music. What kind of environment and does the lyrics or the instrumentals come first?
Kasia: I'm always creating new material- in fact I never really stop, i.e it is continually something I do. Sometimes I write the lyrics first, other times I may decide a type of sound, song and what instruments to use.Or it maybe a fledgling idea that comes to mind which I then develop either to a short song or as in my own opera projects I find myself developing a musical idea because I feel that the project requires more depth. So it depends on how inspired I am in what I may create next.It's not always planned ,i.e.I may go with a small idea that then gets expanded, often I can get carried away with the creative process, if an original idea really grabs me!! Sometimes I think a short piece says it all!
Stoli: Here in Boston we have Symphony Hall. What Hall or Theater would you love to perform at and what song would you want to sing?
Kasia: Yes- I know you have some special spaces/theaters for performances. It would be great to be able to use such a space to perform a song or even a show spectacular based on a theme. I think the any hall that has had great legends sing or play their own kinds of music would be a special happening for me. It could be anywhere in the world, and to any audience that may like my music.As to what song- that is a difficult choice to make from being the writer- because I don't have a favorite so I would leave the choice to the audience.
Stoli: What would you say to the music lovers who are so accustomed to mainstream music to give opera music a listen as well?
Kasia; Well…. that's a great question- I would just say have a listen, you may like it! Each to their own I guess.
Stoli: Your voice is your greatest asset. How do you keep your throat and vocals sounding amazing everyday?
Kasia: Thank you so much, that's a lovely comment. I actually practice frequently, never straining,however I do like to have a good sing sometimes and   from an early age by ear I think has helped me to remember where I'm at as a vocalist, and although I've tried different techniques I've got to know where or where not my own voice will go and what it will do. So I'm a great believer in knowing my own personal sound and sticking to it.
Stoli: Do you have family & work as well as your music and how do you balance it all?
Kasia: I'm at the age now where all responsibilities and sharing don't take up as much energy and time as it used to. Being 50 plus, my parents have passed on. A few life changing situations overtime I can now for the first time in my life give myself time for my music and me as an artist. This is a wonderful way my life has panned out – so after all the balancing that was needed in the past – I'm grateful that I'm where I am now; and have the time to concentrate on what I really love doing.
Stoli: What is coming up for you and where are you @ online?
Kasia: Hopefully promoting my creative stuff online through various web sites will bring some more opportunities for my own music. I've had some companies and artists look in on what I'm doing and have been a great support to me to do more; or have said they will be getting back for more; and even had requests by a few to work with the them in the future on new projects.You could say – I'm sure that I will continue to create my own musical space and just hope that maybe I will find more venues to promote it. When it comes to it- I don't think I will ever stop creating something new whatever happens.
http://www.reverbnation.com/kasiabeesley
http://kasiaclassics.com/index.html