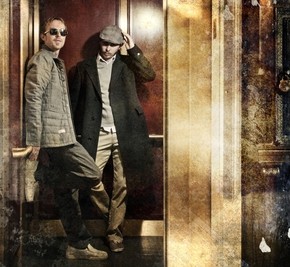 So we are back at it and this Starbucks double shot in a can got me feeling like its not 9 am but rather 10 pm! I just have to say one thing that lets me know that so many mainstream artists use controversy instead of talent to showcase their music. Madonna has got a catalog of hits that most would dream of, so why must she show her nipple on stage still?! My guests today will not have to show their nipples because their music is dope. 2Bers is joining Skope today from Albuquerque, NM and they have a new album out 'Dig' which is over an hour worth of authentic hip hop rhymes & beats. Join us today as we check out their video for "How To Relax", how they got together, what 2Bers means, and so much more!
Stoli: Where are you based and tell me about your local music scene?
2BERS: Albuquerque, NM.   The scene here is…different.   It's a super-small city, it's hard to tour from here, and no matter who you are it's often a tough draw.   Despite these drawbacks the level of talent here is amazing. Some of the people we get to play and work with are bananas.   Also, there's a lot of history and soul in NM.   The culture is thick, the landscapes are mystical, and and there's always weird sh*t going down.   It's a perfect place to nurture creativity, so we're very lucky for that.
Stoli: We are based in New England where the weather can be mild. How is summer like in New Mexico and how do cope with the heat?
2BERS: 100+ degrees HOT! A NM Summer Coping Kit includes: ice, a cooler, and a lot of cold Mexican beer.
Stoli: You guys came together in 1999. How did you two hook up thru music and how have you kept working together for over a decade?
2BERS: It's a crazy (and long) story.   The brief version goes…we were young rappers facing a serious crossroads in our lives when we met.   We immediately started collaborating and worked together to build our first studio (by studio we mean a sampler and a 4-track). Coming together creatively gave us a foundation, something to anchor to.   Everything in our lives was so chaotic, music seemed like one thing we could control. Since our initial connection was rooted in this weird, traumatic experience, we bonded.   Now we're like a bickering married couple trying to take care autistic child that we named 2bers.   It takes patience for sure.
[youtube -W7IE3M33_A]
Stoli: Would you say that your family/friends support your music and what you are doing?
2BERS: We think so…we hope so. Jeez, now that you ask maybe we should check.
Stoli: How did you come up with the name 2BERS?
2BERS: It was an impulsive decision we made in 1999 after a friend of ours said "Dude bros, you should use the word tuber in one of your song lyrics!   It's like a potato or a beet or something…like an underground root, you know?." We though to ourselves…"Aren't all roots underground?"   Nonetheless we were inspired and decided to go a step further and take it on as a name.   Since there are two of us, it only made sense to change the spelling to include the number 2.   Terribly exciting and wildly creative, we know.
Stoli: I am loving your album 'DIG'. How long did you work on that and how has the response been?
2BERS: Thank you so much.   For us the recording process is not limited to this or that album.   Writing, producing, and recording is an integral part of our lives.   So by the time we decided to release 13 songs and call it DIG, we were drawing from 40 to 50 finished songs and 3 years of work.   Choosing the songs to release is a difficult process.   It's like having to decide which of your children you like best.   For us, we knew that this would be our best release yet, but you never know how others will feel about it.   So far the response is overwhelming and very positive.   Hopefully that continues.
Stoli: Although you work with many musicians please explain the dynamics of the group in regards to who does the beats, lyrics, hooks,   etc?
2BERS: At the core 2bers are Eph'Sharpe and BlesInfinite.   We each write, compose, arrange, and produce together and on our own. Sometimes a track has more influence from one or the other, but ultimately it's both of us coming together that really defines the sound.   For live performance we can do a couple different things.   We can perform as a duo to DAT tracks that we've produced, but typically we like to work with a group of musicians to interpret the studio tracks and play them live.   Right now our band looks like this:   Ben Levine (Drums), Nathan Kappel (Bass), Lonn Calanca (Guitar), Clyde Grey (Keys/Cello/Talkbox), DJ Intro (Turntable, MPC), and Amanda Grant (Backups/Percussion).  
Stoli: I really like the song "A Love Strange". What is the meaning behind that song?
2BERS: It's a dirty, dark, and honest song about how some intimate relationships really work.   We've all had a few those strange relationships…right?   Right?   Guys?
Stoli: Do you guys do music full time or do you have jobs as well to pay the bills?
2BERS: We do a lot of things for money (it's not what your thinking we promise).   We own and run our own studio in Albuquerque, as well as a number of things besides 2bers.   We're getting by right now, but we're hoping DIG and our efforts this year will elevate everything.
Stoli: In your press shot you look very stylish which I like. How important is image & fashion as part of your total package?
2BERS: It's not the first thing we think about, but it's a detail which is important.   You gotta dress for the occasion you know?   If you're going to a job interview, or a funeral, or the beach…you dress differently.   We just try to keep it fresh and cool, but also stay true to our individual sensibilities and not get too trendy.
Stoli: Whats coming up for 2BERS and where are you & the album @ online?  
2BERS: We'll be on tour this fall.   We've got a BlesInfinite solo release (Casual Anarchy) coming out later this year.   We're looking to break into Europe next year.   All sorts of stuff. You can get DIG and keep up with everything we're doing at 2bers.com.
http://2bers.com
http://facebook.com/2bers
http://twitter.com/2bers
http://soundcloud.com/2bers
http://youtube.com/the2bers