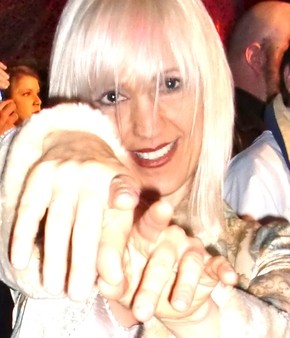 Watch out Lady GaGa, there's a new dynamo in town with some real moves and her name is Angela Eren!   Angela is making a BIG statement in the world of Dance/Electronica & Pop music.   You will find out about all of her recent achievements, her life as a "rock star mom" and you will even find out that Angela Eren used to "stand in the middle of my bed with the hairbrush/microphone and sing at the top of my lungs to "Dancing Queen"!"   You will find all of this and much, much more about this emerging artist from Venice, California who is the newest sensation on the Dance 'n' Pop scene!
J Rae: So how excited you must be to already have three nominations for the 22nd Annual Los Angeles Music Awards!   I see that you are nominated in the categories of: Dance Electronica Artist of the Year and Best Dance Group.   Being that you just started in the music game in 2010 and this has all happened so quickly, how does this truly feel?
Angela Eren: The nominations have actually gone up to four categories!   Best new artist Dance Electronica, Best Dance Group, Best Showcase Artist, and Best Pop Artist!   I am thrilled!   I have a lot to learn still; which I am learning on the fly; and that is OK by me!   Since I can remember I have always had this dream; I just never had the courage to believe in it, or in myself! Two years ago, I suddenly realized that one day I am going to die and that there is nothing stopping me from living the life I love, (there actually never was, it just took me until two years ago to realize that!) I am sure now that this is my time!
J Rae: I see that you have to balance being an artist, songwriter, entertainer and single mother, so I'm just curious as to how you perform this juggling act on a regular basis?   Is it tough and what's your secret?
Angela Eren: When you believe, things just seem to work out!   And there are definitely days where the dishes just don't get done though! I am passionate about what I am doing!   For the first time ever, I am doing what I want to do with my life. Even doing this interview is a life- long dream being fulfilled!   (Thank you, J Rae/ Skope!)   Keeping my focus on my future makes each day exciting and inspired.   Those days when I am not as inspired, I just remind myself what I am committed to and I keep my eyes on the prize!   My kids are very proud of their "rock star mom"!   Because I am living authentically, I give them the example to be true to who they are.   I believe that is a gift I give to my kids.
Buy: http://www.cdbaby.com/cd/angelaeren
J Rae: I noticed that your love for music and performing started at a very young age. Going back to the school solos, musicals and even taking up ballet lessons at 11 years old, where did all this passion come from originally?
Angela Eren: Being on stage, being a star, was a desire that was placed in my heart from before I was born.   More than a dream, this is my destiny.   My deepest fear is to fall short of living to my full potential.   There are many dreams out there buried in grave yards that never got realized. We are all human and there are so many pitfalls to our human experience.   I wish to stay humble so that I don't succumb to those disastrous endings!
J Rae: So how about we talk about your latest single "Take A Chance", which I have to say is catchy as hell!   By the way any relation to Abba's song "Take A Chance On Me" or am I way, way off?   There's a fun, dance vibe goin' on and wanted to ask if that was the intention all along?   Also, the song definitely has major Pop appeal and wondering if you would consider yourself a genuine Pop artist of Today's music?   And finally, what does this new track mean to you personally and what should listeners get out of it?
[youtube dE0F90nI9so]
Angela Eren: Abba! What an awesome band!   I used to stand in the middle of my bed with the hairbrush/microphone and sing at the top of my lungs to "Dancing Queen"!   Actually, when I wrote "Take a Chance" I was thinking about Gaga.   Some of the vocals on the scratch version reminded me of Gaga-esque riffs; then those kind of morphed into the sound you hear now on the single.   I have always joked with my producer that when I can write a meaningless pop song– then I will have arrived!   Interesting, now that I have added choreography to the song, it is taking on a new dimension; I see it as some kind of an anthem or something!   The best compliments I have had were on several occasions where fans have written and said; OMG this is exactly what I am going through, I really needed to hear this song for my life!
J Rae: I couldn't help but notice that you have a wide range of musical influences from Lady GaGa, Madonna, Cindy Lauper, Cher, David Bowie & The Beatles to The Rolling Stones, Elton John, Tom Waits, Simon and Garfunkel, Kim Mitchell, Kate Bush, Laurie Anderson and Peter Gabriel.   That's a heck of an eclectic list but if you had to pick just one who would that be and why?   I'm sorry in advance for putting you on the spot because I'm sure this will be pretty tough.
Angela Eren: The thing these artists all have in common is they are all not only brilliant but they all have success as pop artists.   I love the pop genre, because there are no limits.   I can write a song with Spanish rhythms, or another with blues progressions, or one with country, heartfelt lyrics and put them all on the same album, because it all falls into one category: pop! Another thing these artists have in common is that there is a strong visual quality to their work.   I am a very visual person.   (I love to paint.)   From Waits' crying piano to Bowie's men from mars, to Anderson's hat check at the ice rink; the images in synchrony with the amazing music are what stir me.   When I was nineteen I went on a six month exchange program to Togo, Africa, that was 1984, and when I came back from Africa, MTV had been born!   I was mesmerized.   I could not get enough of it!   I would stay up all night long and watch.   Each video like a mini movie, and in four minutes or less, a whole story was told!   I knew I wanted to do that; make music and make videos… and put on great shows.
J Rae: You obviously love to sing, write songs and dance but it seems to me that putting on a great show is at the top of your list.   Is this true and if so what is your style when it comes to your overall stage presence and performance?
Angela Eren: Look. Music today, much of it, is on the internet, online and through MP3's and MP4's.   There is nothing wrong with that at all.   I am a huge You Tube fan myself!   But I still remember my very first concert. It was a Canadian band called Trooper.   They were at our local coliseum. I'm ten or twelve years old, and some friends and I all buy tickets with our babysitting money and we go to see this concert; our first concert. "Raise a Little Hell" is one of Trooper's hit songs at the time that plays on the radio regularly.   Before the band even gets on stage the excitement in the crowd is beyond anything else in this world!   They come out on stage, purple and pink floodlights madly waving back and forth, and the crowd goes wild.   The band plays hard and solid; straight ahead rock and roll, no special theatrics (though I love theatrics, don't get me wrong). They play for two hours straight and walk off stage.   The crowd won't have it!   The band comes out and plays an encore.   The cheering gets even louder. So they come out and play another, then another, then another.   The band plays six encores! The crowd just will not let up.   Finally, after the sixth encore and about twenty more minutes of straight cheering, there is the "Elvis Presley announcement":   THE BAND HAS LEFT THE BUILDING- PLEASE GO HOME!   We feel like we want to stay here all night long, for real!   There is this wide alleyway, about three blocks long, that leads to the subway line. After the show, the crowd floods the alley, still screaming the whole distance, screaming and walking en masse, like some kind of a wailing amoeba.   It is like some kind of inner person is awakened and the joy and the energy is astounding!   I mean, this was the kind of concert that had me lit up for days!   The feeling lasted with me for a long time.   It altered how I perceived life itself.   This is the kind of live show I intend to produce.   I am committed to making an impact and a difference for my audience, so that they leave my show somehow altered.
J Rae: How is life in Venice, California?   How long have you lived there and what is the best thing about Venice in your opinion?
Being a transplant from Canada, every single morning I wake up and see the palm trees and smell the ocean air, and I just thank God for this wonderful place!   Los Angeles, actually, is simply paradise!   But SHHHHH don't tell anyone, or they'll all want to live here!
J Rae: So you're putting on a lot of concerts in your local area but wondering if you have any plans to venture out of Cali?
Angela Eren: Definitely! I am very much excited to begin touring! I am ready when fate is!
J Rae: Speaking of concerts, it's that time of year again when the hot summer tours are in full swing.   Any on tap for you and maybe you can tell the Skope readers about some of your past experiences that stand out?   It's all about good times and good memories here, so feel free to share as much you like.
Angela Eren: Concerts on my wish list are Roger Waters, if he ever comes back to LA, and Gaga when she gets back to the western hemisphere.
It is so interesting; since getting in line with my purpose, I now have many friends who are musicians and performers.   It just sort of happens that way. I mostly love going out to local venues to hear and see my friends and their bands.   You can know someone for a long time, and yet when you see them perform on stage you see a side of them that you have never seen before.   The most important thing is that these are the brave ones who are willing to believe in themselves, believe in their dream and follow their passion.   That takes a lot of courage!   A lot!   These are the people I love to be around; the ones who are not afraid to take a chance!
I wish Angela the best of luck at this year's Los Angeles Music Awards and I really hope that she wins!   I have a feeling that there will be many more award nominations & accolades to follow for this talented artist from Cali.   For more info on Angela Eren and her musical escapades, SKOPE out www.angelaeren.com.  
By Jimmy Rae (jrae@skopemag.com)