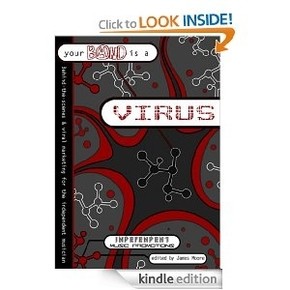 You're an independent artist and have a new or upcoming album. Why should you get the newly updated, bestselling music marketing guide "Your Band Is A Virus – Behind-the-Scenes & Viral Marketing for the Independent Musician"?
1) Get insider tips on how to approach the music press efficiently.
Generate high amounts of reviews, interviews, and features for your music.
2) Learn from industry experts such as legendary producer Stuart Epps (Led Zeppelin, Elton John)
3) Use micro-job sites such as Fiverr to your advantage.
4) Get licensing deals for your music.
5) Drop the promotional language and get coverage with the facts.
6) Tested viral and behind-the-scenes marketing strategies that work.
7) DIY ways to promote your music for FREE!
Find out more and get your copy today at www.yourbandisavirus.com or at Amazon.com – Click Here!
James Moore – james@independentmusicpromotions.com
Independent Music Promotions – Music Marketing For Serious Independent Musicians www.independentmusicpromotions.com