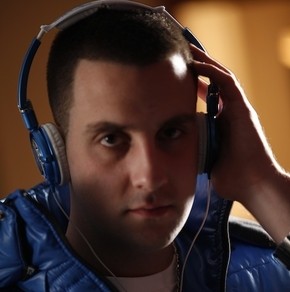 Last night I was having some Ten High chilling watching TV and Mac Miller came on. Amidst my subtle buzz it dawned on me how music has become so accepting to musicians of all races making all kinds of music. To me that is a good thing for music and I hope that trend continues. My guest today is the epitome of this and his name is Mike Lembo coming out of Long Island, NY. To say that I am impressed by Mike is an understatement. This musician is atking dance & hop hop to another level and he his 100+ views of his video "Can't Come Down" shows the people are feeling him. At only 23 Mike Lembo has got an exciting journey ahead and I am excited to be on board. Join us as Mike talks about coming up on Long Island, finding his unique style, going out in NY, and much more!
Stoli: Where are we talking from today and how are you feeling about the summer in NY?
Mike Lembo: Hey man what's up!! I'm chillin at home today in my house in Long Island, and I'm feelin great about the summer in NY, the weather has been beautiful so far and women are everywhere haha.
Stoli: Is Mike Lembo your real name and at what age did you get into music and see it as a career and not a hobby?
Mike Lembo: Yes Mike Lembo is my real name, I got into music around 15-16 years old. It became really serious about 3 or 4 years ago, after I graduated from Full Sail University I took it to another level.
Stoli: How would you say that growing up on Long Island and being close to NYC helped you get ahead in the insustry and making contacts?
Mike Lembo: NY is a great place to be for the music industry, no doubt about it, I met alot of great people in the tri-state area and it has helped me alot so far!! Just being able to do clubs and events out here is a big help.
Stoli: How have your family and friends supported your music and your passion to pursue your dreams?
Mike Lembo: They have been great, in the begining i was a little nervous to tell them how serious I was about music, especially for the fact that I rap haha, but once it was out in the open man they were and have been nothing but supportive of me, which is a big deal to me bacause family is a huge part of my life.
[youtube J4I1NorvFfE nolink]
Stoli: I love how you merge hip hop and dance and the high energy you have. How long did it take to create your style that you were comfortable with and the people liked?
Mike Lembo: It took some time to find my comfort zone. I started just doing the hip-hop thing but I feel like the good feeling dance and party vibe suits me perfectly. Im an energetic person so it works well. I really like where I am at right now.
Stoli: I am feeling the new single/video for "Can't Come Down." Talk about what that song means to you and who you worked on in regards to production?
Mike Lembo: It means alot to me because of the success it is having. It's basically about having a high from music and life in itself and not being able to come down from it. It's produced by DJ Mike Rizzo and Steve "Mr. Mig" Migliore, they were up for a grammy last year!! pretty crazy stuff.
Stoli: If I was to come visit you in NY where would we go to party and check out some women and live music?
Mike Lembo: Haha hmmm that's a tuff one! We would have to do 2 nights, one on the island and one in the city, maybe go out to the hamptons and party at one of the clubs on the water, that's always fun.
[youtube C4lQn4QtAY4 nolink]
Stoli: You are a young man now at 23 but can you ever see yourself settling down and having a wife & kids?
Mike Lembo: Yea I would def like to have that someday, just not right now, things are way to crazy and I'm hoping they get even more crazy!! One thing I'm learning in this business is "Crazy is good"
Stoli: Your online & social media game is tight from Amazon to Facebook. How much time per week do you work on that and what is most effective in reaching new & loyal fans?
Mike Lembo: Yea I love the whole social media thing, being able to reach out to 10,00 fans on facebook or twitter is very cool, I stay on my phone tweeting and dropping news and status updates all the time!! Thank god for the iphone haha. As far as reaching new fans and making the base grow, I have a great team around me and it seems like everytime i do something new I gain some more fans through it, just have to keep them updated and treat them like equals!! I reall believe in that.
Stoli: What kind of mood & atmosphere do you like to be in to make new music?
Mike Lembo: It depends on my mood, usually just chillin in the studio with some friends around me just vibin and getting opinions from the few people I usually ask. Or sometimes I like to be alone when I write or create.
Stoli: The world is in a tough place these days with so much negative energy. How do you stay positive and keep doing your thing everyday nomatter what?
Mike Lembo: I have great people around me in my life that really support what I'm doing, Like I said family and friends are a huge part of my life, and that is def what helps me stay positive!!
Stoli: What is coming up for Mike Lembo and where you @ online?
Mike Lembo: Going to make music and enjoy the summer, maybe a few club performances here and there, and in september I'm doing a 10-12 day promo tour in Europe!! 4 countries, TV, Radio and Performance, should be pretty groovey!! Twitter=@realmikelembo, facebook.com/mikelembomusic, youtube.com/mikelembomusic and ofcourse http://mikelembo.com.