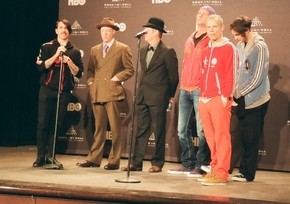 Once again it was Cleveland's time to host the Rock and Roll Hall of Fame's annual induction ceremony, it's 27th.   The performing inductees were The Beastie Boys, Donovan, Guns N' Roses, Laura Nyro, Red Hot Chili Peppers, Freddie King, and The Small Faces/The Faces (Rod Stewart previously inducted).   Also in a new move, the Rock Hall now recognizes the backing groups of other frontmen previously inducted, The Blue Caps (Gene Vincent), The Comets (Bill Haley), The Crickets (Buddy Holly), The Famous Flames (James Brown), The Midnighters (Hank Ballard), and The Miracles (Smokey Robinson).   These legends were graciously accredited and enshrined by Smokey.   The non-performing inductee group included the legends behind the scenes, producer/songwriter Don Kirshner, engineer Cosimo Matassa, and producer/engineer's Tom Dowd and Glyn Johns, all inducted by The Band's Robbie Robertson.        
The city's gala at historic Public Hall unveiled the new walk of fame bronze stars commemorating this years inductees.   Inductee Alice Cooper arrived to cheer on the newcomers (acknowledging Laura Nyro as one of his favorite songwriters), as did alumni George Clinton (noting that the Chili Peppers were family) arriving in his own "Mothership", a big silver Zeppelin car/bus, with another Hall alumni "Kidd Funkadelic" guitarist Clevelander Michael Hampton, and the ominous "Minister of Funk" in black judge's garb.   George also performed with Cleveland born rapper Kid Cudi earlier in the week at a free concert put on by the Rock Hall.   Actor David Arquette was here to do his best Don Kirschner impression during Carole King's induction of her former boss, which also featured prior inductee Darlene Love performing Carole's classic "Will You Love Me Tomorrow".   Cleveland biggies, Mayor Frank Jackson, Indian Chief Mark Shapiro, Brown's head coach Pat Shurmur, and musician Jim Brickman were among the attendees.  
The ceremonies went on with no Axl Rose (defiance), no John Frusciante (declined for reasons only he knows), no Adam Yauch (cancer), and no Rod Stewart (strep throat).   Some behind the scenes scrambling had Simply Red's Mick Hucknall taking the vocals with the Small Faces/Faces, Alter Bridge and Slash's solo frontman Myles Kennedy leading the Guns N' Roses configuration (including drummers Matt Sorum and Steven Adler), and the Beastie Boy tribute had Kid Rock, Gym Class Heroes' Travie McCoy and the Roots' Black Thought outfitted in matching old-school green jogging suits.   The Beastie's were inducted by rapper/actor LL Cool J, (who got his break when the BB's gave his tape to producer Rick Rubin), and Public Enemy rapper Chuck D.   The Chili Peppers brought out George Clinton, Billy Joe Armstrong, Ron Wood, and Slash for a finale of the some 5.5-hour gala, on Stevie Wonder's "Higher Ground".   The Freddie King tribute including "Going Down" had Joe Bonamassa, Derek Trucks, and his inductors ZZ Top's Billy Gibbons and Dusty Hill performing.  
Chris Rock's R-Rated induction of the Chili Peppers included how he first saw them by accident when he went to the wrong club expecting to see Grandmaster Flash.   He described how he couldn't understand a single word they were singing, their tube sock fashion statement, and extreme energy.     Cigarette wielding John Mellencamp inducted Donovan Leitch with the strangest rambling speech, while offering up the first Donovan record he ever bought and admitting he stole his complete act from The Don.   Don on the other hand, gave an eloquent poetic acceptance address, fitting of a true musical scholar.   John joined Don onstage for "Season of the Witch".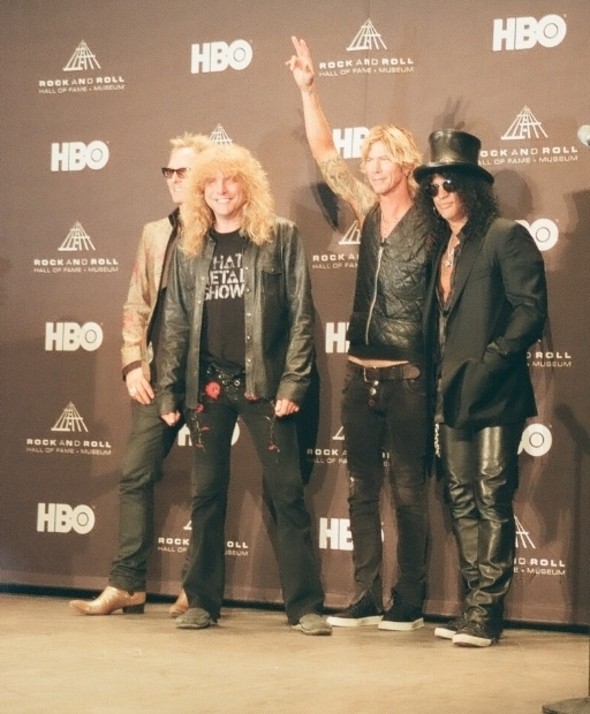 After Bette Midler's teary induction of singer/songwriter Laura Nyro, singer Sara Bareilles did a fantastic version of Laura's "Stoney End".   The Chili's Flea was also choked up during accepting while acknowledging his mother who was present.   Green Day's Billy Joe Armstrong gave a longwinded dissertation of whatever, while presenting GNR.   BJA revealed that after first observing the antics of the multi-talented GNR that they were on course to end up either being dead or in jail.   E Street's Miami Steve Van Zandt inducted the surviving Small Faces/Faces members Ron Wood (Rolling Stones), Ian McLagan, and Kenney Jones by saying that they were fortunate enough to have the two best white soul singers ever in Steve (Stephen Peter) Marriot and Rod (Roderick David) Stewart.  
The event and entire week of activities was extremely well executed, and came off making the city a winner.   At least a zillion things needed to be done efficiently from the planning phase to the finish line in order to hit it out of the park.   Everything from the accommodations to the security was well thought out and executed.   Backing bandleader, Letterman's own Paul Shaffer did a great job of both arranging and playing.   I personally thought the performance highlight was GNR, as Myles and Slash really nailed everything down with a vengeance.   Myles calmly hit the notes from high to low, being in great form from recently touring with Slash.  
BACKSTAGE & ONSTAGE COMMENTARY
Up and down the red carpet, questions (many the same) are asked of the celebs by both TV and print reporters and journalists. Many times one even finds something that you yourself asked or said, misquoted.   In any event, its worth providing an inside look at the event, giving the general gist of what was discussed, and using some of that poetic license we hear of.   The questions I asked directly naturally stand on their own merit.   During a face-to-face discussion with comedian Dave Chappelle a few weeks earlier, I invited him to the inductions.   Alas, he wasn't able to make it.   NOTE: In the interview room, the inductees appeared onstage in bright lights with a mic.   Thus, they couldn't see you when you asked a question, and had a hard time hearing your mic-less shouted out question.   Needless to say, things get lost in the translation, as when I asked The Faces a question.   So here goes!  
ALICE COOPER
RE- Alice (Cooper)!   Nice to see you again.   AC- Hi.   It's nice to be back in Cleveland.   I believe rock belongs in the Midwest.   I'm from Detroit.   I'm here to support the new inductees.   Also, Laura Nyro is one of my favorite songwriters.   The inductees are really sweating it tonight, because you're playing in front of all of your friends and peers.     It's always a bit of a relief when it's over.   RE- Are you performing?   AC- Not that I know of.   Sometimes they just say come on up, and you do it.   Last year I was up there with Bette Midler, Neil Diamond, Elton, and Leon Russell and we did The Do Run Run, which is exactly my kind of song!     RE- What about the new movie (Dark Shadows)?   AC- it's going to be like all of the Tim Burton movies, it's comedy and scary at the same time.   Johnny Depp is great.   He's sort of the new Lon Chaney, The Man of 1,000 faces.   Great guy, and a great guitar player.
KID ROCK
RE- Haven't seen you in a while.   Are you working on a new album?   Kid Rock- Yeah, we'll have one coming out.   RE- What's going to be the style of it?   KR- (Laughs) You know, rock and roll, funk, hillbilly shit!   RE- That will work!   I haven't caught the Food Network thing with Guy Fieri yet.   KR- (Smiles) Watch it.   There's some funny shit in it!   RE- Can't wait!  
BILLY GIBBONS ON FREDDIE KING
BG — Freddie later became known as a singer, after his first instrumental hit Hideaway, which is incredibly rare that you can make your instrument sing.   That was part of the magic of Freddie King.   It's just amazing that he was such a powerhouse of playing, and some people are just marginally aware of him.   RE- I think that one of the things that made rock audiences aware of him, was when Grand Funk took him on tour opening for them, thus the reference in American Band.   BG- One of the breakthrough moments was Leon Russell taking him under his wing, when Leon had developed his new record label Shelter.   The Texas Cannonball, through the great works of Jim Franklin the "Armadillo Artist" from Austin.   That imagery, (Freddie's album cover art) helped push Freddie to the forefront.   It was really interesting seeing him coming up.  
Note: Wanda King accepted the award for her father.   She said a really young Stevie Ray Vaughn came up to her dad at a show and asked "How can I play the blues like you man?"   Freddie replied, "You got to feel the blues.   You can't get to rock and roll unless you can play the blues, baby!"    
THE FACES/SMALL FACES, IAN, KENNEY, RON
RE- I know that Jimi Hendrix always wanted Stevie Winwood in his band.   Is there anybody that you guys wanted in your band at the time?   Note: They thought the question was, "Who would you want to see up there with you?"   Ian McLagan- NRBQ, the greatest rock and roll band!   Ronnie Wood- Davey Jones, the English guy from the Monkees that recently passed away.   He may be in already, probably is!     Actually, I thought the Faces were already in!   Kenney Jones- A lot of people did!   RW- We're really glad Mick Hucknall came (Rod Stewart had strep throat), cause he saved our lives!  
CHILI PEPPERS ANTHONY KIEDIS
AK- What would Hillel (deceased guitarist Hillel Slovak) make of this? I don't really think that I can speak for Hillel, but I think that he would have a good laugh.   It would certainly mean something to him as he cared deeply about the music and the brotherhood of being in the band, and being a creative force in the universe.   He is and always will be a part of everything we do, but I think he would make you laugh until you pooped your trousers!   We're touring now, and we're an ongoing concern.   We're in the moment and the now, we're very excited about playing music right now, just like we were in 1983.   It's strange to stop and reflect, but it's very meaningful and full of love and crazy ass memories.   Flea texted me in the middle of the night and said, "Dude, we're being inducted into the Rock and Roll Hall of Fame!"   It's was like, whoa, we are, that's right, it's crazy!   There are those surreal moments, but we're going somewhere.   How can we take an award when we're just half way there?   But it is nice to get together with people that we've spent some incredible years with along the way writing songs and playing little theatres and sweaty transvestite clubs and having the time of our lives, just being raucous bastards, and throwing down as hard as possible every night we stepped onstage or into a rehearsal space, and we still get to do it, and we're still getting better and still making mistakes.   Note: Former drummers Cliff Martinez and Jack Irons were present for the induction.  
Chad Smith — For a while there, we went through guitar players like Spinal Tap, except with guitar players instead of drummers!  
RE- Chad, are you finally going to give Sammy his shit back about not being in the Rock Hall?   CS- Hagar?   RE- Yeah, the last time you played here he was giving you a bunch of shit about "Some of us are in the hall already!"   CS- Yeah.   I'm going to "Here's your bag of shit Sam.   I've been carrying it around for a long time!"   Yeah, I'm gonna give it all back to him!
GNR
Matt Sorum said that he was living with his mother (as he was broke), and she said that there was a guy, Slash, or Slush or something on the phone for him.   Slash said something to the effect of "Matt, we need a drummer.   We had to kick out our drummer for doing too many drugs!   Matt said, "How in the —- is that possible in Guns and Rose's?   Steven, you should get an award for just that"   When Steven went to the mic, he calmly said, "Hi, I'm Steven Adler and I play the drums and cowbell!"   Reflecting on Axl's award refusal, Duff McKagen said, "It doesn't matter who's here tonight, because this is about the music the band created".  
DONOVAN
DL- My music has been my life, and I'm pleased to say, has been the soundtrack for so many millions of people's homes and lives, and difficulties.   I'm of the tradition that music is a healing art.   I'm so happy to receive this, because the great searchlight, as it beams upon my work this year, shows the students of the world and the new generations, that there once was a time in the 1960's that there was a series of songwriters who led the way into the future.   You should write songs about anything you care about, songs about peace and love, and the brotherhood of man.    
CHRIS ROCK ON AXL
CR- "A lot of people are upset that Axl did not come tonight. Let's face it … even if he was coming tonight, he wouldn't have been here by now."
The event was simulcast at the Rock Hall. To get the full feel and vibe and all of the nuances and madness, catch the ceremony, which will be shown on HBO on May 5th.  
 
By R.M. Engelman  
 
http://rockhall.com