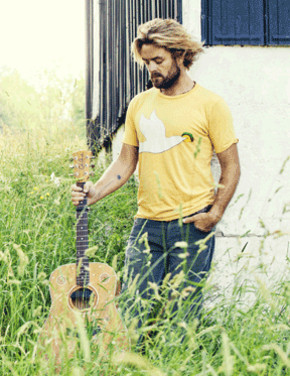 Sometimes, the most unique and special sounds are the most organic. For singer/songwriter/multi-instrumentalist XAVIER RUDD, connecting land and heart isn't a matter of conscious art but a humble understanding that everything before us will remain long after we are gone. Crossing cultural lines from the modern world to that of the Aborigines, Rudd continues his journey to become one of Australia's most iconic voices today with the release of his seventh album (and first for SideOneDummy) SPIRIT BIRD on June 5, 2012.
[youtube 0E1bNmyPWww nolink]
Releasing his debut To Let in 2002 to local acclaim, Xavier's weaving of native music into his folk music helped reintroduce Australians to the sounds and stories of the land's original owners while revealing an entirely new sound to the rest of the world. Building a strong reputation on his live performances, he has traveled the world playing festivals such as Bonnaroo Music Festival, Lowlands, Rock Werchter, The High Sierra, Wakarusa, etc. as well as touring with Jack Johnson, Dave Matthews, Ben Harper, G. Love and Rodrigo y Gabriela.
Photo credit: James Looker