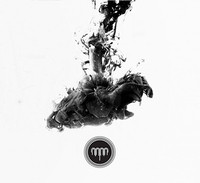 Over the years we've seen rock and ever hard rock slowly erode into over-commercialized, corporate puppet shows providing music that is extremely sing songy, predictable, popish and highly corporate. I hereby call this new breed of music "Poser Rock" & I want to personally thank all the corporate giants for successfully transforming "Sex Drugs & Rock n Roll" into "Yoga, Vitamins, and Power Pop" Of course millions of musical lemmings don't know the difference, but not everyone is entertained. Talking to many music fans out there the response is overwhelming. Give me something new, something raw, something that's pushes the envelope with a fresh sound that doesn't sound like Nikelback, Daughtry or Lifehouse.
So across my desk slides the new EP from Australia's own Monks of Mellonwah entitled Starts are Out (EP).   What I heard put a smile on my face. This latest EP has everything. Solid playing, impressive writing, top flight marketability and commercial viability. Above all it's a rock solid release that delivers solid songwriting with a hard hitting rock edge that is marketable yet highly original. Monks of Mellonwah reminds me of a cross between the Red Hot Chili Peppers and Sublime with hints of Weezer, Green Day and even Soundgarden thrown in. But despite my poor attempt at pigeonholing this explosive band I will say they are more passionate and melodic than any of the aforementioned acts. There's also a raw underground garage band vibe here as well yet refined and polished. If you like the above bands you should definitely check out this CD. CD is available on CD BABY & can be downloaded on I — Tunes.
Starts are Out EP by Monks of Mellonwah is a solid release with many hard rocking grooves with a heavy guitar driven sound that hits you hard between the eyes. It's a record that gives us a fresh glimpse at a hot new band from Down Under. It definitely takes us back a few years — before everything started sounding like — well Nickelback.
Kevin Huber
Edited by Cyrus Rhodes
[Rating: 3.5/5]