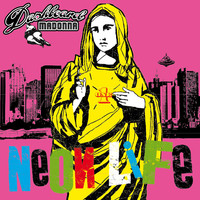 Dashboard Madonna are a rock/pop/funk power trio from Hamburg, and their latest release is the "Neon Life" EP. "Imagine Steely Dan jamming with Jack Johnson and Sheryl Crow" is how their bio describes what they're trying to achieve with their sound, and I would have to say it's a clear explanation of what's happening sonically with this act. Rock at their core, they bring a cool, laid back poolside vibe, strong pop sensibility, a dose of psychedelia and some funk for good measure.
"Dead Men Tell No Tales" sounds like Morcheeba jamming with Herbie Hancock, more like it. The groove is a super cool, danceable rock jam that sounds loose and dreamy. The band definitely know how to create a big sound, and there's something hypnotic about the lounge rock vibe here. Vocalist  Honey has a smooth voice with a fair amount of range. Her voice shines moreso when she projects more on the chorus when she belts out "Dead men tell no tales", hitting a nice minor note on the last word. Her  male counterpart is Sascha, the other half of the band, the male vocal.
"Starting from Scratch" immediately made me understand why funk is part of the general description of the band's sound. Opening with a Red Hot Chili Peppers groove and leading into a sexy, r & b verse, once again the band is excelling here and creating some very tantalizing music here. If anything, it's Sascha's vocals that are not quite up to par with the band. Don't get me wrong. She's good, but it sounds like there should be more projection in her voice to match the intriguing nature of the music. She hovers closely around the same whispery tone most of the time.
"Up & Away" is a humorous "night out on the town" song with male vocals taking the lead. It works, and it's fun, although the song is weaker than the first two offerings. "Slam Dunked" is a fascinating groove, as I've come to expect from the band. The vocals shine on the chorus mainly. Perfect music for a spy film, which brings us to "Bond Girls". This is an instant hit. With a disco beat and a warped synth, Sascha chants "Bond girls are forever" in a sexualized lead vocal. Another fun, laid back party song that could work as a strong single for the band. "The Girl in the Polka Dot Dress" musically could have been written by the Chemical Brothers there is so much going on here. Very interesting, and the song is full-on catchy throughout.
Overall, "Neon Life" EP proves Dashboard Madonna as an extremely talented group with the only slightly lacking element being the vocals, which need more projection, strength, and/or possibly some production help to make them shine.
James Moore @ james@independentmusicpromotions.com
[Rating: 3/5]