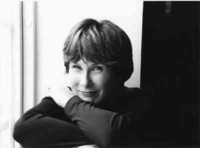 Deborah Henriksson is a folk/celtic singer originally from New Jersey, who now lives in Sweden. Classically trained but with a passion for folk and celtic music, she brings a deep emotional intensity to her work that you may not expect. Not content to rest in a single genre, Deborah is already exploring new soundscapes as vehicles for her voice. Personally, I think her ambient music choice is a wonderful one. In fact, her voice could shine over most styles of music; however, the music must have both class and a healing energy. It must be pure in order to serve as a backbone to the very spiritual voice of this gifted woman. Deborah has been receiving "through the roof" reviews and, of course, winning well-deserved awards and recognition for her work.
"Snow" is a stunning piece that it would be difficult to imagine anyone disliking. Henriksson's voice seems to paint a picture as it weaves in and out of the music like an angel who is half here, half in some other world, bringing back messages for our benefit. The discipline in her singing is incredible, as she elevates the mood simply by projecting such control. "My Lagan Love" starts with a warm synth, and it's over this that Henriksson's vocals are reminiscent somewhat of the very famous "The Wind That Shakes the Barley" rendition by the great Dead Can Dance. This sounds like a classic Celtic tale of love and devotion. Singing over such a simplistic, minimal synth works very well, as it allows the listener to take in the full emotion communicated.
"Ae Fond Kiss" is a piano piece, once again played with subtlety to accommodate the powerful vocals. Absolutely beautiful. "My Love Is like a Red, Red Rose" finds Deborah singing over a folk guitar piece, and it seems that every genre she takes on, she excels at. I would feel bad for the other entrants in both celtic and folk songwriting contests if Deborah Henrikkson had entries in each simultaneously. There would be inevitable disappointment, because this is a voice hard to compare with. On each track, Henrikkson brings a slightly different tone, and on "My Love is like a Red, Red Rose", it's a sweet, devotional one. "Only A Woman's Heart" is another folk song with a more upbeat tempo and a mournful, bitter-sweet feel. Acknowledging pain and not trying to hide away from it.
Deborah Henriksson's "The Hearts Cry" CD is a deeply moving and beautiful release and I look forward to hearing more from this gifted vocalist.
James Moore @ james@independentmusicpromotions.com
[Rating: 5/5]