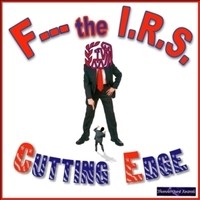 That tenacious group that we all know as Cutting Edge is at it again with a song titled "F – – – The IRS".   The song was written by Liza "Leli" Pesnell, William Zimmerman, frontman David Pesnell with additional help from bassist Ryan E. Smith.   The track also features the fine playing of Jeffrey Carolus on guitar.   You will be excited to hear that Cutting Edge has supplied not one version of "F – – – The IRS" but four different cuts!   One will hear the original rock version, a live set and two remixes by a DJ who has the skillz to pay the billz–Ricky Ric!   Ricky will hit you with a funky urban mix ("Ricky's F'n Remix") and "Ricky's Dance Radio Mix".   Both mixes have cool beats and pizazz as Ricky Ric is layin' it down real nice CE style!   I particularly enjoyed the "Dance Radio Mix" due to the very hip & futuristic sound plus I can't get enough of that robotic voice effect!  
The "LIVE!" version of "F – – – The IRS" has so much damn energy that it will make your head spin!   You'll feel like you're actually at a live rock concert with the entire Cutting Edge band bringin' the heat and the audience soaking it all up.   The on stage chemistry and crowd response are both priceless as you will witness, firsthand, what a Cutting Edge performance is all about.   The original version is a rim-shakin' jam that hits hard and is fully-designed to pick up major air play.  
Cutting Edge is here to set the record straight by saying: "F blank, blank, blank, the IRS…Let's get rid of that American pest!"   Lyrically, the listener will quickly pick up that Cutting Edge is not hiding their feelings when it comes to singing about that powerful, money-hungry corporation that we all know as the Internal Revenue Service.   Cutting Edge stands tall & strong when they say: "It's not a legal institution, not even in the Constitution.   WE must end IRS confusion and its monetary pollution with a PEOPLE'S REVOLUTION.   That's Cutting Edge's conclusion!"   Or how about this: "Hey IRS, what about the $ 1 billion that you lost?   Maybe it's time that the American people make you pay!"   I hear you loud & clear Cutting Edge and I'm sure many others will also.   Time to rise up PEACEFULLY as ONE against ALL ugliness that is directly related to POWER, GREED and CORRUPTION!   Watch out Uncle Sam because the Cutting Edge army is coming for you!!!
"F – – – The IRS" is included on the album 'Censored By the U.S. Govt' and the record is produced by David Pesnell and Jimmy Fassler.   Fans and newbies will be thrilled to find out that Cutting Edge has a special promotion going on where you can purchase the original version of "F – – – The IRS" and dance remixes for only $1!   Go and get yours now before the deal runs out! (http://101distribution.com/project/?id=380659&srh=s)   And remember, "We the people" do have a say but WE must first take the power back peacefully.   For more exciting news & updates on one of the most original bands in the music world TODAY, SKOPE out their website   http://cuttingedge-band.com and the official Cutting Edge Facebook Fan Page https://www.facebook.com/pages/Cutting-Edge/122040117811626.   Time to make some serious NOISE PEOPLE!!!
By Jimmy Rae (jrae@skopemag.com)
[Rating: 5/5]