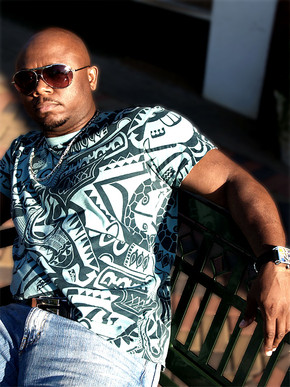 Gary "Lil G" Jenkins, former lead vocalist for the massively popular R & B group Silk, has released a new single that will no doubt be getting some serious attention. His voice is undeniably rich and powerful, and I have to say this sounds like a man who was born to perform on big stages. I didn't know what to expect when pressing play his new single "I Love", and it transcends genre without a doubt. Soul and R & B music would have more influence today if more of it was like this.
After selling millions of records, touring the world and appearing on television numerable times with Silk, what's left for an artist like Gary? It seems that my conclusion is the same one that he's come to. Play great music and knock 'em dead. We can be sure to hear a lot more from this stunning voice in 2012.
Link for single on itunes:
http://itunes.apple.com/us/album/i-love-single/id504765646
 
Gary, your career has taken you places that most musicians only dream of. What's admirable, though, is that you seem to be intensely focused on creating great work in the present. Please tell us about your new single "I Love", which was incredible, by the way. How did it come about and how can people get a hold of it?
 
The song "I Love" was derived from the meer thoughts of a very hard working man wanting to surprise the woman he loves with a gift of taking time off and making time for them to enjoy life by way of a cruise to paradise. You can get "I Love" on ITunes and Amazon (Gary"G"Jenkins – I Love).
 
Are you currently touring or working on tour dates?
 
Yes I am traveling the globe and working on tour dates. So, LOOK OUT in your city or a city near you!!
 
Do you have any particular career highlights or moments where you felt that you "arrived"?
 
Some particular career highlights that let me know that I had arrived are as follows; the first time I heard myself on the radio,my first BIG check and my first tour in Japan where the audience sang every word along with me and treated me like I was a king.
"I Love" MP3: http://popcore.net/garygjenkins/I_Love_Gary_Jenkins.mp3
 
What would you say is your highest goal as a musician?
 
My highest goal as a musician is to keep learning and bettering myself in all aspects of music and oto teach the younger generations and help them grow.
 
How do you feel about music today? What current artists do you most admire and why?
 
This is what I feel about music today. All music has it's own place and time of evolution and revolution. It's all about preference. I feel that modern technology has made it too easy and has taken us all away from the natural, raw and theoretical aspects of music. I admire all artists that are achieving success in this game for the simple reason of finding what works for them, working at it and remaining relevant through all types of obstacles and adversities. In other words I respect all artists and the game. I jusy hope I'm respected in the same manor.
 
Who inspired you to follow this path and start making such soul-driven music?
 
My inspirations of my musical, soul-driven path are and were Prince, Stevie Wonder, Donnie Hathaway, Charlie Wilson and The Isley's to name the main ones.
 
Many musicians decide to be vocalists and they rush into it. What advice would you give to aspiring singers and performers who want to have the whole package?
 
To all who aspire to be in this game, this is my advice to you. Don't get caught up in the hype and surround yourself with well educated and experienced people to assist you and help you learn the game as well. Focus on your craft and be diligent in perfecting it. Accept criticizm but still believe in yourself and know that you have to work for it to get it and be patient.
 
What else can we expect to hear from you in 2012? It seems like you're quite busy.
 
In 2012 be prepared to experience the hardest working man in the industry because I'm pulling out all the stops! SINGING, DANCING, INSTRUMENTS, ACTING and whatever else comes at me! LOL
 
Thanks for taking the time to chat with us at Skope Magazine. Is there anything you'd like to add?
 
I'ld like to add this before I go. If ya want to keep up with me,check me on facebook(garygjenkins),tweet me @garygjenkins,www.pennave.net,www.iamgjenkins.com and my song "I Love" is available for download on ITunes and Amazonmp3. Thanks to everyone for all the love and support past and present! Now let's make it the future! I LOVE YOU ALL
 
By: James – james@independentmusicpromotions.com