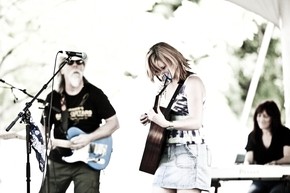 I have come across a talented young lady from Colorado whose talents & interests go way beyond music as you will find in this interview.   Her name is Julia Bryan and her band is called The Last Flight Out which includes Jeff Normon on electric guitar, his wife Marcie Norman on keys and bass parts and Carl Holtz on drums.   Julia & company have a brand new EP out titled 'Blues And Shoes' with much more coming soon!   Bryan had this to say in regards to upcoming releases: "We really like the EP format, and plan to release a new one about every six months."   So you heard here first, singer/songwriter Julia Bryan and The Last Flight Out are not messing around so get your ticket now!
Jimmy Rae: First off I'd like to ask just who is Julia Bryan?   Will the real JB please stand up?   This is for people wanting to get a closer glimpse into the life & times of not just the musician but the complete person who makes up Julia Bryan.
Julia Bryan: I am really kind of a goofy spaz. I love to run outdoors. I love my big family; three older sisters, a little brother and a handful of adorable little nieces and nephews. I just relish the times when we all get together at my parents place for bbq and bacci ball. I love to mow the lawn with a beer in hand, I love ethnic foods, NPR, road trips, making up silly songs with my hubby, and tickling him until he cries. I love to get up early, I love all things about the early morning. This is a good thing because I hop on the bus and head to campus at 6:30 most mornings! I absolutely LOVE learning, and I consider myself super lucky to be in school again.  
Jimmy Rae: I see that your official music career kicked off in 2009 with an EP and a new single but based on what I've heard & seen thus far it's hard to believe!   You seem to have a distinguished & refined sound already as it feels like you've been doing this for years!   So…I gotta think you've been involved with music in some form or fashion prior to 2009–am I right?
Julia Bryan: Correct! I was raised with a diversity of music at the heart of everything, so I have been fascinated with its magic from a very young age. I started on the violin when I was 9, switched to guitar at 13, and started picking at the mandolin when I was 15. I loved singing in my high school choir, my teacher's passion for life and music was inspiring to me. I started attempting to write my own songs at some point in high school, but it was a personal hobby/outlet really until about 2008.
Jimmy Rae:   Your style of music crosses genres without question by including elements of pop/rock, classic rock, blues, country and even some soul.   Was this the intention all along and where does this inspiration come from to play such a diverse mix of songs?  
Julia Bryan: It wasn't really the intention all along. When my song-writing bud Jeff and I first started getting together, we were just planning on recording a few of the songs I'd written over the years. Over time I discovered that the thrill of writing and producing a song comes from capturing a certain feel or style, and writing lyrics that reflect that style. I think it's so much more fun not to think about a specific genre when writing music, and let the song evolve and go where it wants to go.
Jimmy Rae:   I see that you play regularly with your veteran band 'The Last Flight Out' and I'd love to know more about them like how you guys initially met and where the name comes from?   Just give us the inside scoop on 'The Last Flight Out' if you wouldn't mind.
Julia Bryan: I am proud to play with such classy and distinguished musicians. I consider them some of my closest friends. Jeff Norman plays electric guitar and he is my collaborator, co-producer and publisher. I've also managed to convinced him to add vocals to our musical mix; I love his voice. He spent 20 years in the Marine Corp by the way, Semper Fi! Marcie Norman (his lovely wife) plays keys and covers the bass parts with her left hand, does all the booking for the band, and does all the accounting for our company, Pork Chop Productions, and she has black belts in two different fighting styles… look out! She is truly amazing all around. Carl Holtz plays drums; I consider him the find of a life time as he is incredibly energetic and accurate drummer on stage, and also an amazing studio musician. Carl is a Berklee alumni and has toured nationally and internationally, playing a wide range of musical styles.
How I met Jeff and Marcie: When I was waiting tables back in 2007, this ol' guy (who looked exactly like Colonel Sanders) and his wife were sat in my section. Turns out they were friends with one of my sisters, and she had given them a copy of this cheesy little collection of songs I'd put together as a mother's/father's day gift for my folks. Jeff recognized the resemblance to my sister and hassled me a little bit before revealing that they were family friends. Could have totally creeped me out if it wasn't for the beautiful and gracious Marcie! Haha. Some months later, I called and asked for Jeff's help performing a song for my sister's wedding, and early the next year we started getting together to record a few of my originals. It turns out that we really clicked musically, and we started working up a few new ideas for tunes. The three of us went out to see some local musicians perform, it both scared the shit out of me and excited me. I decided we ought to give the whole thing a shot, so we put up an ad on craigslist for a drummer.
Enter Carl Holtz: Browsing through the "creative" sections on craigslist is not only one of Carl's favorite pass times for entertainment, but he browses also on the odd chance that he might find the right gig musically. He would tell you that's exactly what he found with The Last Flight Out. Of course then it was just Jeff and me, with a five song demo and a make-shift website to stream the music. As he listened to the first song he called his wife in and told her, "This is it." We had him over for an audition, and the rest is history.
The Last Flight Out is a name that was thrown into the mix when we were brainstorming early on, but for some reason it didn't take. So for a long time we were The Julia Bryan Band, which I was never crazy about. I wanted to have a name that represents the collaboration of the whole group, and the unique relationship we have as a band. So I forced it on everyone! Just kidding, we all really like it:o)
Jimmy Rae:   I know that you sing and play acoustic guitar but wondering if you play or have played any other instruments?   Where did this interest to wanna sing and perform come from?
Julia Bryan: I can still crank out a few very basic melodies on the violin, but I stopped at the 6th grade level of my Suzuki violin book so I only bust it out after I've had too much tequila. I absolutely love the mandolin; however I left mine in Africa six years ago. I go into music stores once in a while so I can pick at one. Hopefully I can afford one soon! I love to play it. My mom and I used to play folk and Irish tunes together, she would accompany on guitar and I miss that so much! I am really looking forward to adding its unique sound to some of our songs.
Jimmy Rae:   Staying on track with your singing ability I must say that I was very impressed with your vocal delivery and the genuine/sincere quality that your voice has.   Do you consider it a gift that requires a lot of hard work & dedication on your end?
Julia Bryan: Thank you Jimmy! My voice has developed a lot over the course of my 20's, and a great deal since I started performing live. I do think it's something that requires upkeep. I mean, I noticed that it was out of shape after we took a month break from practices over Christmas. I feel like I should be a little more intentional about working it out!
Jimmy Rae:   Do you write all of your songs?   If so, please feel free to tell us the process that you go through in order to come up with catchy material.
Julia Bryan: All of our music is original. It is a combo of songs I've written, songs Jeff has written, (some with our buddy Kluas Peterson), and music we've written together. More often than not it starts with a musical hook or a chord progression that one of us comes up with, and sometimes it starts with a phrase or an idea for the lyrics. We usually shoot ideas off of each other, and sometimes we can be a bit brutal, but I think it keeps us focused and producing better ideas.
Julia Bryan:   Real interesting question here and that is what are the major differences between performing in front of a live audience, playing in a studio or just simply singing leasurely at home or in your car perhaps?  
Julia Bryan: Hmm. I think the major difference between performing live and any other type of playing is the nervous energy and excitement that is channeled into a performance. You feed off of the energy from playing together, and the response from the crowd. It's a blast! Playing in the studio is the hardest thing I've ever done as a musician; capturing the energy and passion of a song while maintaining accuracy of tempo, evenness of tone and volume output… I feel so fortunate that we have a basement project studio at our disposal, so we can take our time! One of my favorite things to do when I'm playing at home by myself is to sing-journal. I make up "songs" as a way of venting, not a whole lot of creativity involved, just an excuse to talk to myself really.
Jimmy Rae:   I saw that you're from Colorado and I have to say that I've been dyin' to visit there and see the Rocky Mountains finally.   What is your take on Colorado, in general, and the mountain scene?   Maybe you could mention some other cool spots in Colorado that you frequent so if I'm ever up that way I'll know exactly where to hit first.  
Julia Bryan: Oh how I love Colorado. The weather is fantastic, and always changing so you never get sick of any season! One of my favorite spots is the mountain town of Steamboat Springs. If you visit Colorado, you must go up there. You can float down the Yampa river in a inner tube, head up to Strawberry Park hot springs (the best I've ever been to), and catch some great live music at the Ghost Ranch in the evening or at their various free outdoor music events on the mountain. Ride the gondola to the top of the ski mountain in the summer and have dinner up there. If you like to hike there are amazing hikes all over the place. The rodeo is SO   fun to go to in the summer. I'm assuming you're talking about summer? If not, almost all of those activities are just as fun in the winter time, plus the slopes are full of snow!
Jimmy Rae: I noticed that you are playing local venues right now but curious to know if you are interested in ever touring nationally or even internationally?
Julia Bryan: We would all love to.   At this point, I am really focused on getting all of our original music recorded. We are about 40 songs behind! I value the creative process, and I want to have good representations of the music available.
Jimmy Rae: I saw that you had an album out last year titled 'Unplugged' and so I'm wondering what your thoughts are when it comes to electric vs. acoustic?  
Julia Bryan: I love them both. I think it's a great model to offer both acoustic and electric permutations of our music and of our live performance. It gives us the flexibility to play a wider variety of gigs, and some people really just like one or the other, so it's nice to offer both. Jeff and I actually just created something we call "Gunny and Julia's Acoustic Alley". We sit down with our acoustic guitars, play one of our tunes and send it out to our subscribers every two weeks. It's a really nice platform for us to tell more about the songs- under each video I include a little song bio as well as the lyrics. I love hearing people's feedback and reactions to the tunes. Our first video we spent an entire day cracking up at each other trying and to get a decent take… neither of us are very eloquent when a camera is rolling… haha! One of these days I'm going to compile some of the best outtakes. You can check out the first episode on Youtube:
[youtube NNt9DWtHcAA nolink]
Jimmy Rae: I couldn't help but notice that you spent years in remote areas of Africa doing non-profit work which sounds incredibly interesting.   I, along with all the Skope readers out there, would love to hear more about this experience so do tell.   What were you able to take out of all of this and what did it mean to you personally?
Julia Bryan: Oh man, do you have a couple of hours? Ha! For three years I worked with a non-profit doing work in Uganda and Sudan, starting when I was 19. I lived in Uganda for a year and a half. What I put my dear parents through when I made the announcement, shaved my head, and packed my plastic bins! They were proud of me though and supported me in so many ways. My mom even came out to visit me the second year. It would seriously take way too long to detail all of the life-changing experiences. Friends and family have encouraged me to try to write about it in its entirety, which I hope to endeavor upon! I will tell you that I was deeply humbled, had adventures of a lifetime, and met people who changed my life. A piece of my heart will forever remain there.
Jimmy Rae: Off the subject but I was reading something today that really sparked my interests.   Laura Cheadle, who is a funky singer/songwriter from Jersey, has her own true story published in a book called 'Rock & Roll Ghost Stories'.   This topic has always fascinated me and so I thought to ask if you've ever had any ghostly encounters yourself or maybe someone you know?   If not, then maybe just tell me one of the scariest things you've ever experienced?  
Julia Bryan: Hmm, a lot of people believe in ghosts and such things. I really have no reason to, I haven't seen anything throughout my life or in my various travels that would lead me to suspect ghostly activity. However I am stalked by hawks, I think they are my power animal… seriously.
Jimmy Rae: I'd really like to find out more about your latest album called 'Blues and Shoes'.   Can you please tell the entire Skope universe why they should have this record in their collection right now?   I saw that you have a few shows booked already but wondering if there are anymore on the horizon?   In what other ways are you promoting the new EP and looking ahead what can we expect to hear & see from Julia Bryan?
Julia Bryan: Well, Blues and Shoes is our first release as The Last Flight Out, released in late 2011. The title is true to the music; in fact one of my friends is responsible for accidently naming it! He just said, "Hmmm, blues and shoes!" as he was listening to it and looking at the songs on the cover. I couldn't have thought of a better title. :o)   As I mentioned earlier, we are dozens of songs behind recording-wise, so there's a lot of music releasing to look forward to! We really like the EP format, and plan to release a new one about every six months. Our next one is due sometime in May. You can visit www.thelastflightoutmusic.com for two free mp3 downloads, and to keep in touch with us. We will keep you apprised of all things new music! Thanks so much for taking the time to chat with me Jimmy, it's been a delight.
By Jimmy Rae (jrae@skopemag.com)